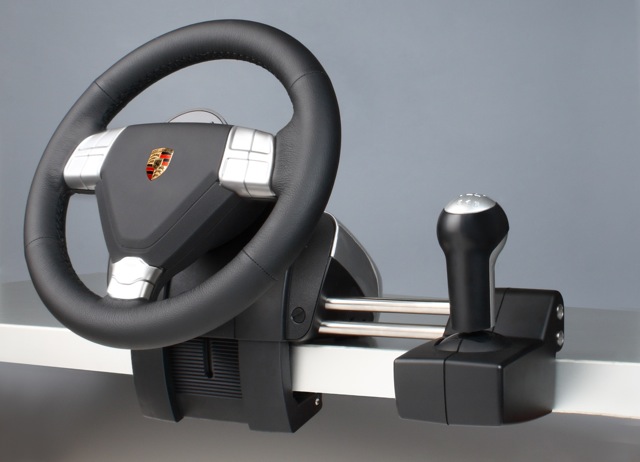 For as long as I've been playing video games (admittedly a long time), I've loved playing racing games. They've always been my favorite. Pole Position was probably the first "real" racing game I got addicted to. I played it until I could finish it consistently every time on a single quarter. From that point on, I'd gravitate towards the racing games any time I had the opportunity to choose. Some of my favorite times in the past 10 years was going to Chuck E. Cheese when the kids were little. Everyone else would be in school/at work, and we'd get bag fulls of tokens for free (thanks to my wife's savvy couponing skills) and just go nuts.  I would pump token after token into different driving games.
Strangely, I don't play too many racing video games at home on the various gaming systems we have. This is largely due to the fact that it's just no fun to drive with a normal controller. Course that didn't stop me from taking my turn racing the legendary Hurley Haywood in Need For Speed: Shift (My Day IN the Races). I felt like I was at a disadvantage having to use the controller. Not that it would have made a whole lot of difference in my driving that day.
As luck would have it, someone from Fanatec contacted me after my report of getting crushed by Hurley Haywood and offered to send a racing wheel for me to try. Let me just say, it felt like Christmas when the Fanatec Porsche 911 Turbo S Racing Wheel showed up. I don't love this wheel. I'm IN LOVE with this wheel. It's simply amazing!
From the moment you lift up the box, you can tell from the heft that this isn't your typical gamer racing setup. This one is built for those looking for a more realistic racing experience. Unpack this bad boy and you're treated to one of the finest replicas of an actual Porsche steering wheel made for gamers anywhere. Honestly, I can't imagine a finer wheel unless you were to take an ACTUAL Porsche 911 Turbo S steering wheel and somehow mount the appropriate gaming buttons to it. It's that solid and realistic feeling.
One note before I go on. You need to know this is a dang classy setup. It's well designed and thought out. It's as much a work of art as it is a game enhancer. Too many video game accessories take function over form. Not so with the Fanatec wheel and pedals. This thing is THAT gorgeous.
Setup is a breeze with the major mounting options covered (table and stand). The first time you plug it in and power it on, you may be surprised by the calibration it cycles through. The wheel turns all the way on it's own to the stop, then turns back to center. It's pretty cool. It's also a precursor to the stellar experience you're about to embark on.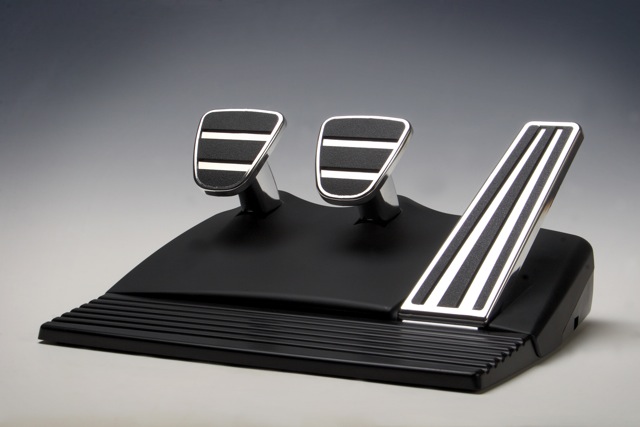 So far I've used the wheel primarily with Need For Speed: Shift on the Xbox 360. It has performed flawlessly and negates the need for a secondary controller to be on for menu navigation. Game play is truly taken to the next level with the wheel and included Standard Pedals. It takes a bit of getting used to, but you'll be hard pressed to ever go back to a standard controller for driving game play.
Here are some features of the Fanatec Porsche 911 Turbo S Racing Wheel:
Original Porsche 911 Turbo S steering wheel design
Licensed by Porsche Lizenz- und Handelsgesellschaft mbH
Authentic metal Porsche logo on wheel
Hand stitched leather wheel manufactured according to Porsche quality standards
Compatible with Xbox 360, PC and PlayStation 3 (all games which support Force Feedback wheels)
6+1 Speed gear stick with realistic shifting feel
Wired pedals with realistic clutch pedal with declining resistance
3 Force Feedback motors and smooth belt drive deliver sensational realism
Powerful Mabuchi RS 550 Motor as used in RC cars delivers extra strong Force Feedback effects
Extra smooth and silent belt drive without mechanical dead zone
High resolution wheel sensor
It's limited to a total production run of 10,000 units. There are three different versions you can buy. This only adds to the desirability in my opinion.
One of my favorite things about the wheel, aside from the overall improvement in quality of game play are the paddle shifters. Although I spend most of my time in automatic transmission mode to just concentrate on driving, every now and then I'll kick it into manual transmission and use the paddle shifters. I love the effect and these operate exactly like I'd expect on a real car. They're solid, not flimsy feeling and placed perfectly for two handed driving.
Overall, I can't say enough good about this wheel and pedal setup. It's BY FAR the best video game accessory I've ever tried and is well worth every penny. Hurley Haywood can BRING IT! I'm confident I can take him down now.
Check out the Fanatec site for more info on this and other wheels here: Fanatec Racing Wheels.