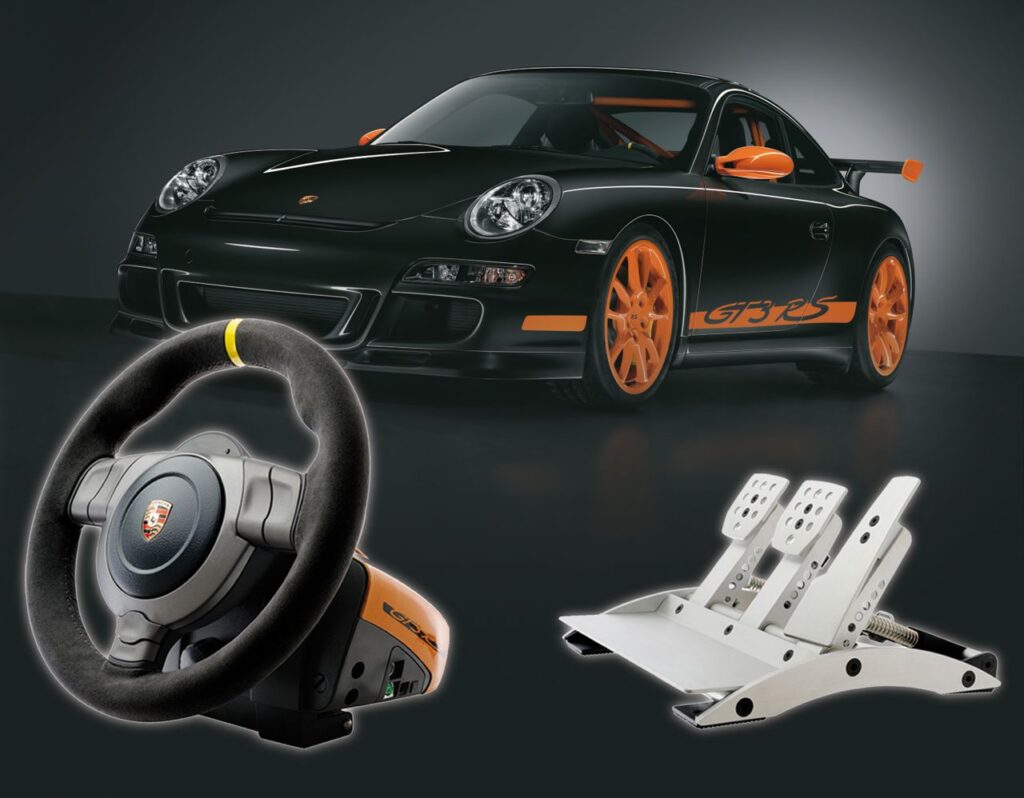 You may recall my review about a month and a half ago of the Fanatec Porsche 911 Turbo S Racing Wheel. If you didn't catch the drift of my review, I absolutely LOVED the wheel setup and felt it was the best I'd ever tried. As crazy as this may sound, Fanatec has outdone themselves with yet another wheel and pedal setup I've been playing with lately. It's the Fanatec Porsche 911 GT3 RS Wheel.
I'll sum this review up for you in two words: sweet MOTHER! The 911 GT3 RS wheel does the Fanatec Porsche 911 Turbo S Racing Wheel one better. In fact, in my previous review, I said, "I don't love this wheel. I'm IN LOVE with this wheel." All I can seem to come up at this point is I want to MAKE LOVE to this wheel, but that just seems too crude. Yes, it's that amazing!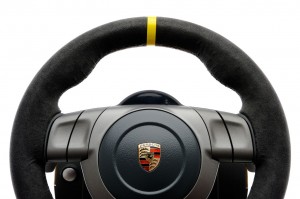 Now, before you dismiss me as some crazy psycho who really should get out more often before I stoop to defiling video game controllers, realize that I'm not a big game junkie. I really don't play games all that much, and will usually just pick up whatever my teenage son wants to play on any given day mostly because I want to hang out with him doing something he loves. Also, I wasn't paid for this review. I just got the wheel and pedal setup to try out. So these are my true feelings.
The question on your mind at this point may be, "What makes this wheel so amazing?" Aside from it being technically as good of a wheel as I could imagine getting my hands on, what separates this from the Turbo S wheel for me is the styling. The wheel has a cool orange casing on the back, which makes me think of that orange Porsche 911 GT3 RS from ads and magazine spreads. What's more, the wheel is wrapped in 100%, identical, ALCANTARA leather. Just like the real thing. The feel of this wheel enhances the entire gaming experience. When I first opened the box and pulled out the wheel, I made everyone in my family take a turn gripping it. THIS is what a racing wheel should "feel" like.
Fanatec also sent me the Clubsport Pedal Kit. It's an all aluminum pedal setup with pressure sensitive brake pedal using an indestructible magnetic precision sensor under each pedal. The brake pedal even has ABS vibration.
Here are some highlights of the wheel and pedals:
Original Porsche 911 GT3 RS steering wheel design
Hand stitched leather wheel manufactured according to Porsche quality standards using original ALCANTARA® leather made in Italy
Compatible with PC and all PlayStation®3 games which support Force Feedback
3 x adjustable paddle shifter styles including Clubsport paddle shifters made of aluminum
Extra large wheel rim diameter (300 mm)
Turning angle can be adjusted in the wheel to 90° to 900° in steps of 10° independent from the game
Powerful Mabuchi RS 550 Motor as used in RC cars delivers extra strong Force Feedback effects
Extra smooth and silent belt drive without mechanical dead zone
High resolution wheel sensor
Fully adjustable including ForceFeedback strength, steering angle, damper strength and linerarity of the steering axis
Clubsport pedals made of aluminum
Pressure sensitive load cell sensor
Maximum brake force adjustable
Contactless magnetic sensors for gas and clutch with unlimited lifetime
Vibration motor on brake pedal to indicate blocking tires
Adjustable spring strength
Adjustable pedal travel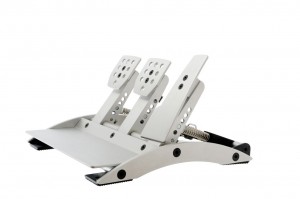 Needless to say, this is a heck of a setup. I tried this wheel on a PC with Need For Speed: Shfit, so that I could do a side-by-side comparison against the Turbo S wheel. I was not the least bit disappointed. Game play was exactly like the Turbo S wheel. I do enjoy playing a bit more on a gaming system than a PC, but that's just my personal preference. The wheel was very responsive. There was sufficient resistance when turning to simulate actual driving and the force feedback effects were spot on. It offered more adjustments than I cared to mess with. Just simply awesome.
Of the two wheels, the GT3 RS is definitely my favorite. I love the ALCANTARA wrapped wheel. Now I'm ready to get my hands on a racing cockpit setup and use this wheel and pedal combo as the basis. In fact, I've been watching Craigslist for a Porsche 911 seat. I thought it'd be fun to try and put together a racing system with some genuine Porsche parts.
If you haven't had the chance to try a Fanatec wheel, try one. You WILL NOT be disappointed. It's as close to the real thing as I can hope to get and enhances any driving game experience. Trust me, you'll be thanking me once you "take" just one lap with this baby.
Check out the Fanatec site for more info on this and other wheels here: Fanatec Racing Wheels.