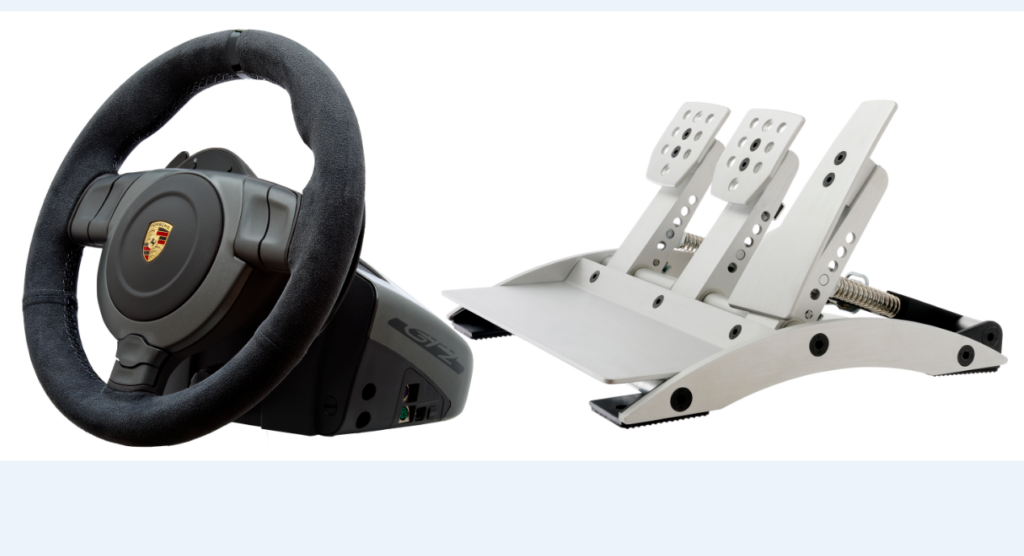 Fanatec recently released a new Porsche inspired racing wheel that's worth mentioning. I've reviewed two different Fantec wheel and pedals setups in the past. You can read my reviews here:
Fanatec Porsche 911 Turbo S Racing Wheel Review
Fanatec Does The Racing Wheel ONE BETTER!!!
Both are simply amazing for enhancing game play on a PC, Xbox 360 or PlayStation 3. My personal favorite (so far!) is the 911 GT3 RS wheel.
Fanatec's latest iteration, the 911 GT2 wheel, promises to not disappoint. Here are some features of the new wheel:
ALCANTARA wrapped wheel that is larger in diameter than previous versions. This is 100% the same stuff used in the actual Porsche 911 GT2 car.
Carbon fiber shifter paddles
Pedals made of CNS machined aluminum
Adjustable settings outside the game like steering and brake sensitivity
The ClubSport pedals even have ABS vibration!
Several versions of the setup are available starting at $249.95.
This thing is absolutely gorgeous. I hope to get my hands on one sometime in the near future to test out. I'm glad Fanatec keeps upping the ante on what they're bringing to the game play table.
If you haven't looked at Fanatec wheels in the past, you owe it to yourself to check them out. They're not cheap, but they're well worth the money spent. My son and I now walk by the wheels by Microsoft and Logitech and just shake our heads at the fact that we used to think those were THE wheels to have for racing play.
Check out Fanatec's site here: Fanatec Racing Wheels.