I mentioned yesterday that PCA members could sign up to race Hurley Haywood in Need For Speed Shift online (PCA Members Can Race Against Legendary Hurley Haywood). Today was the big day and even though I posted about it yesterday, I completely forgot to get the game. When the email came through this morning, I raced out and bought it, threw it in the xBox and honed my racing skills through a whoppin 3 quick practice laps. I don't have have a racing wheel (I'd really like to get one of the Fanatec Porsche 911 GT3 RS racing wheels), so I was stuck with the xBox controller.
The time quickly came to be ready to accept the invite to race the big Double H. I got my invite, jumped into the game and got screwed out of the first race because of an EA Nation sign-up I didn't know about. CRAP! I finally got in and raced in two 2 lap races. The first race I was all OVER the place. Couldn't keep the car on the track. I clawed my way to a 7th place finish…out of 8 people.
In the second race, I was much lighter on the controls and ran about half of the first lap in 2nd place, even beating Hurley at that point. I avoided several near misses on a couple of hairpin turns and was starting to think I could take 2nd to the Finish, then WHAM! Some dude side swiped me as we went into a corner. That was game over for me and I was relegated to a 7th place finish again.
Even though I didn't take down the legend himself, I at least beat one other person in both races.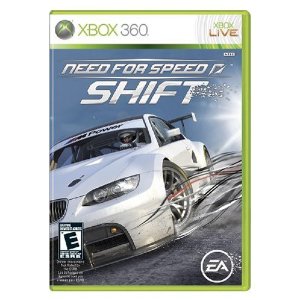 Let me say one thing about Need For Speed Shift. If you don't have it…buy it. I was really surprised by how cool the game was. And it's straight up pure racing. Not all the street speeding and mission crap of other "racing" games. You race on some of the best tracks in the world with some of the best cars in the world.
For the race against Hurley Haywood, I was in a Porsche 911 GT3 RS. After only a couple of laps, I was hooked. I'm ready to throw down some coin on a nice wheel setup and have even started looking at racing seats and whatnot. There are some pretty amazing setups out there.
Need for Speed Shift is definitely a game I'll be playing regularly. It's worth every bit of the $50 I had to drop last minute to get in on the race. You can even save a bit at Amazon for all platforms (PS3, xBox 360, PSP, PC) here: Need For Speed Shift.