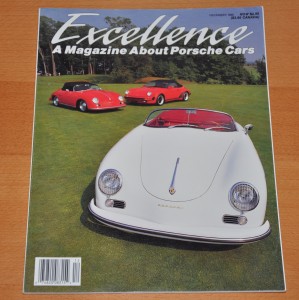 This is the last of the "make use of the crap you've dragged around with you for years" series. If you want to see the first four, you can check them out here: Memory Lane #1, Memory Lane #2, Memory Lane #3 and Memory Lane #4. My all-time favorite is still #2.
This week is another issue of Excellence magazine. It's the December 1989 issue. I, like many people I'm sure, fell in love with the Speedster when the replica appeared in the movie Top Gun. Up to that point, I'd never really been that into old/classic cars, but seeing Charlotte 'Charlie' Blackwood (Kelly McGillis) blast around in that beauty…whew! Still gets my heart racing a bit.
Needless to say, I developed this fascination for the 356 and specifically the Speedster. So when Porsche decided to release the 911 Speedster variant in 1989, that went on my list of must-have cars at some point in my life. Although the changes weren't huge, with only 2100 produced and the Speedster name on the Porsche model I already loved, you can see my instant love affair.
Back to the magazine cover. I'm always a sucker for the old and new sitting side by side. The white 356 on the cover the with 911 Speedster in the background is pretty amazing to me.
Some articles from this issue:
Coverage of the Great Lakes '89 Meetup
The 34th Porsche Parade Autocross
16,000 Porsches In Paradise – A Porsche model collection
The 917K Twenty Years Later