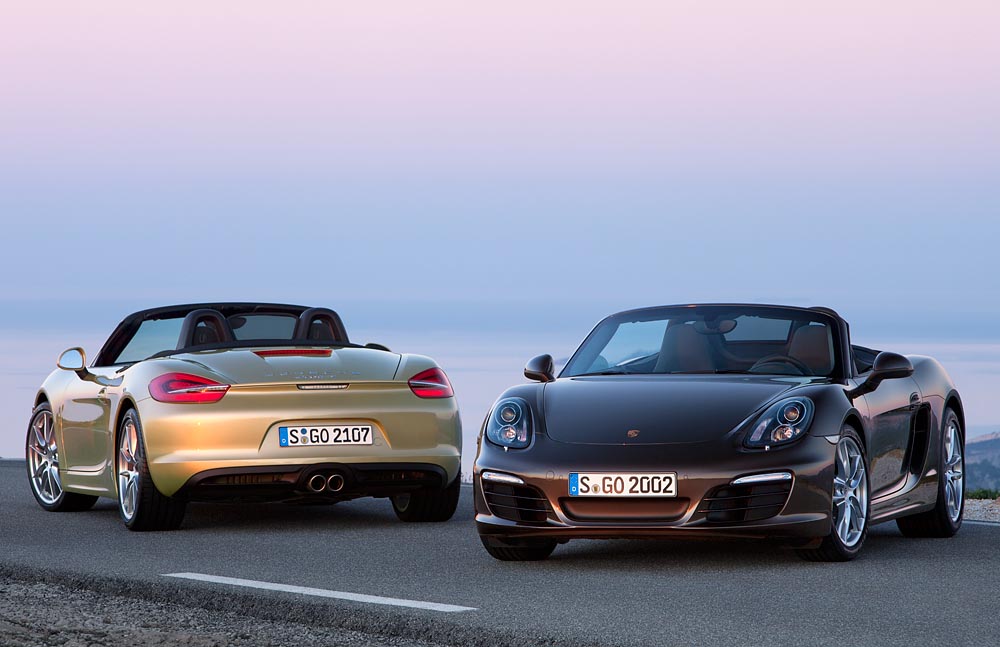 Porsche announced a new Porsche Boxster this week with some great photos and a few of the major changes noted in the press release. Most notable are a new lightweight body, completely revamped chassis and a wider track. They also outfitted the car with larger wheels. You can imagine how this will continue to improve the driving dynamics of the mid-engine car. Performance is bumped and fuel economy also increased.
Here's a bit more info from the press release:
The new Boxster thus delivers what the fundamentally changed styling with shorter overhangs, significantly forward-shifted windscreen, flatter silhouette and expressive edges promises. The passengers are enclosed by the completely redesigned, fully electric hood, which now dispenses with a convertible top compartment lid. The interior concept offers the occupants more space and reflects the new Porsche outline with the raked centre console, which, originating with the Carrera GT, ensures further improved ergonomics in all models.

The new sports car generation makes its debut in the classic Porsche pairing of Boxster and Boxster S. Both models are powered by flat-six engines with direct petrol injection, the efficiency of which is further enhanced by electrical system recuperation, thermal management and start/stop function. The base model's new power unit delivers 265 hp (195 kW) from a 2.7 litre displacement – ten hp more than its larger displacement predecessor. Technically, it is now based on the 3.4-litre engine of the Boxster S. This now delivers 315 hp (232 kW), which is five hp more than before. Both models feature a manual six-speed gearbox as standard with the seven-speed Porsche Doppelkupplungsgetriebe (PDK) available as an option. Both sports cars achieve their best fuel consumption and acceleration performance with the PDK. The Porsche Boxster's fuel consumption with PDK is 7.7 l/100 km and 8.0 l/100 km for the Boxster S. With gear changes without interruption to the power flow, the Boxster sprints from zero to 100 km/h in 5.7 seconds, the Boxster S in 5.0 seconds.
It looks like the official launch of the new Porsche Boxster will be on April 14th (just in time for you to spend your big tax refund!).
Here are a couple more pics:
[Source & Images: Porsche.com]