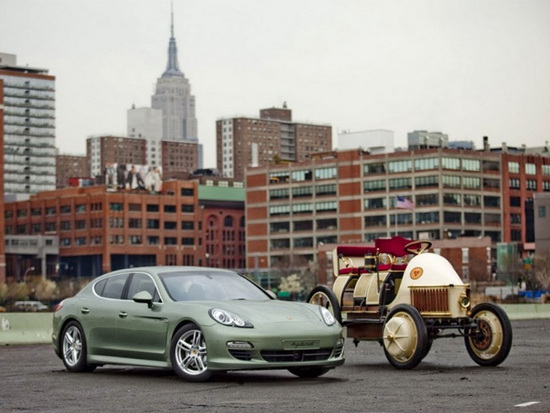 Today at the New York International Auto Show, Porsche unveiled a new Porsche Panamera model, the Panamera S Hybrid. To hit the streets later this year as a 2012 model, the car promises to be the most fuel efficient Porsche of all time. Of course, in true Porsche fashion, the car will be no slouch. 0 to 60 mph in 5.7 seconds with a top speed of 167 mph.
One cool side note. Also on display was the first ever hybrid design, the Semper Vivus, which Porsche Museum staff painstakingly built a replica of over the course of 3 years. A heck of a contrast between old and new between the two cars.
Here is an interesting snippet about the way the hybrid system works from the press release:
The Porsche parallel full hybrid system also reduces consumption at high speeds thanks to its 'sailing' or coasting mode. When the driver lifts off the accelerator at normal highway cruising speeds, the gasoline engine is completely switched off and disengaged from the drivetrain by a decoupling clutch. This eliminates the combustion engine's drag forces and braking effect in the interest of lower resistance, fuel consumption and emissions. As soon as the driver presses the accelerator, to pass another vehicle for example, the gasoline engine smoothly starts within fractions of a second and engine rpms are increased to match the current vehicle speed. It does this seamlessly thanks to the Hybrid Manager, which also helps the Panamera S Hybrid accelerate dynamically in gears at higher speeds.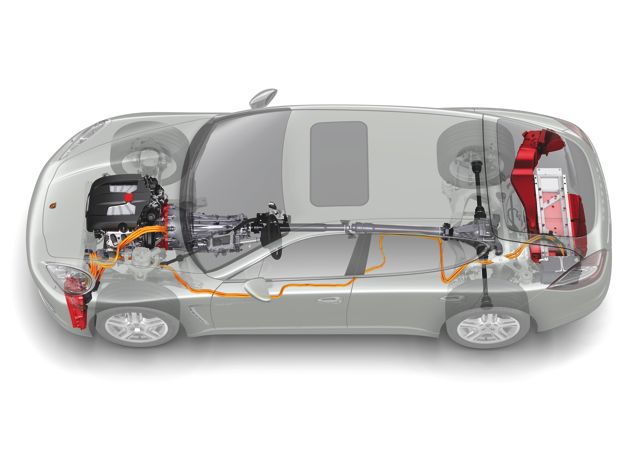 Some facts about the Porsche Panamera S Hybrid:
One mile range in purely electric mode
Electric only acceleration up to around 50 mph
3.0 liter supercharged V6 motor producing 333 hp
Additional power provided by a 47 hp electric motor
8 speed Tiptronic S transmission
Pricing starts at $95,000.
[Source & Image: Press.Porsche.com]