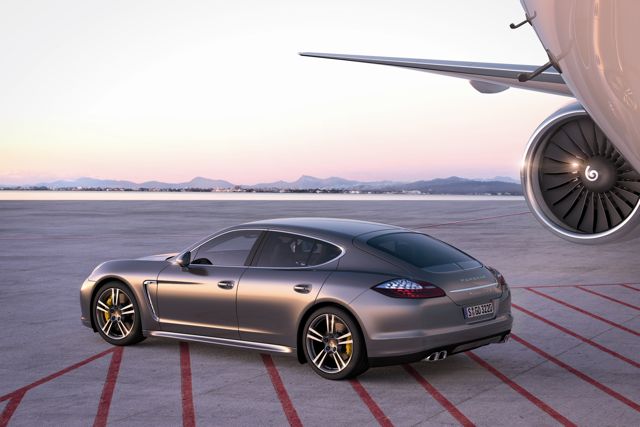 Quite the day of announcements for the Porsche Panamera model line. Not only was the Porsche Panamera S Hybrid announced (Porsche Unveils Porsche Panamera Hybrid), Porsche upped the performance ante for it's four door sedan with the unveiling of the Porsche Panamera Turbo S.
Personally, I love Turbo S models. I like the exclusivity and the increased performance. It completely plays to my infatuation with Turbo Porsches. The Panamera Turbo S will live up to my high standards, I have no doubt, with a twin turbocharged 4.8 liter V8 and all the luxury the Panamera brings. Definitely gonna give competitors some heartache and force them to increase their offerings.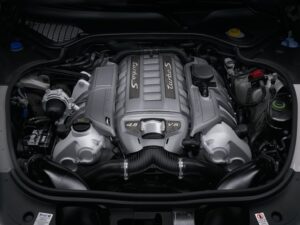 Here are the quick specs on the Panamera Turbo S:
550 hp (50 hp more than the Panamera Turbo) producing 553 lb-ft of torque
A Sport and Sport Plus mode that generates additional, temporary torque topping out at 590 lb-ft
0 to 60 mph in 3.6 seconds
Top "track" speed of 190 mph (I love had they've taken to use "track speed" for those figures)
New 20″ Turbo II wheels, increased rear axle track width, and four-way extending rear spoiler
The car is equipped with a number of driving enhancement features and technologies. Here's a taste from the press release:
In keeping with its sporty concept, it comes equipped with the most important driving-dynamic control systems. For example, Porsche Dynamic Chassis Control (PDCC) is an active anti-roll system that significantly reduces lateral body movement during corning, which enhances stability, handling and overall occupant comfort.  Porsche Torque Vectoring Plus (PTV Plus) is also standard and works to help ensure superior traction and higher-performance cornering by applying a variable torque split to the rear wheels in combination with an electronically controlled rear differential lock. Also standard is Porsche's advanced speed-sensitive Servotronic® steering system, a sports exhaust system, and the Sport Chrono Package Turbo that further tunes the engine and suspension at the touch of the "Sport Plus" button.
The Panamera Turbo S is going to be a performer. That's for certain. It will start at $173,200 and is to be available later this Spring.
[Source & Images: Press.Porsche.com]