Black & Decker recently sent me a little package containing products that I have to say are life savers. Especially for a techie geek like me who loves cars, as well as a techie family with all sorts of electronics that make their way into our travels both near and far.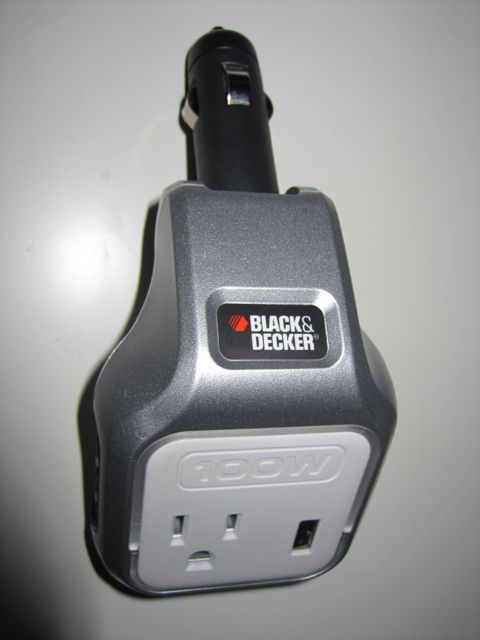 Up until B&D sent these, we've relied on what the family has come to call "the blue thing" which is a power supply for a cigarette lighter that offers a couple of standard AC outlets. The thing is beat to crap because it's traveled with us for so long and has started to act up a bit, most likely due to age. It has been a life saver powering laptops, game boys, iPods, cell phone chargers and a host of other unremembered electronic items. I even used it to power my coffee grinder one time while camping.
Both of the products B&D sent are designed to provide power while on the go.
First is a 100W Electronics Charger, part of Black & Decker's imobile line. As you can see from the picture, it's pretty simple, which is part of it's beauty. Plug it into your lighter socket and you've got an AC plug and USB outlet for charging gadgets like an iPod.
One of my favorite things about this accessory is it's size. It's small and the lighter adapter folds behind the housing. Would fit perfectly in a glove box or center console. The Electronics Charger also has lights that show fault settings and a warning mechanism that warns against draining the battery in your vehicle.
Second is a 500W 2-In-1 Automotive Power Supply, from the Black & Decker Power It line. This steps the power supply up a notch offering not only 100W operation through the use of your car's cigarette lighter plug, but 500W operation when connected directly to a vehicle or boat battery. This allows for continuous operation, even when the vehicle is off and increased power for heavier duty applications.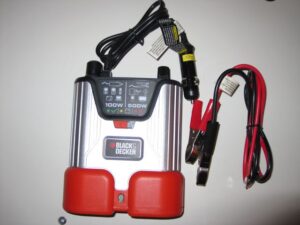 The unit provides two AC outlets and a USB outlet. It has similar features to the 100W compact power supply such as status lights and low battery protection. The housing is made of a sturdy hard plastic and is relatively compact. Overall a nice replacement for "the blue thing."
Both accessories are well made and worth a look. I know I personally couldn't live without one (sad…I know), nor could my family. Heck, we have trouble just having 2 AC outlets available and I've thought about bringing a small power strip along on long trips.
Of the two of these Black & Decker power supplies, I personally like the 100W compact unit. It's a perfect companion for a Porsche where space is tight in the car.
Check out more product info at Black & Decker's site here: Black & Decker, as well as your favorite retail outlet for their products.