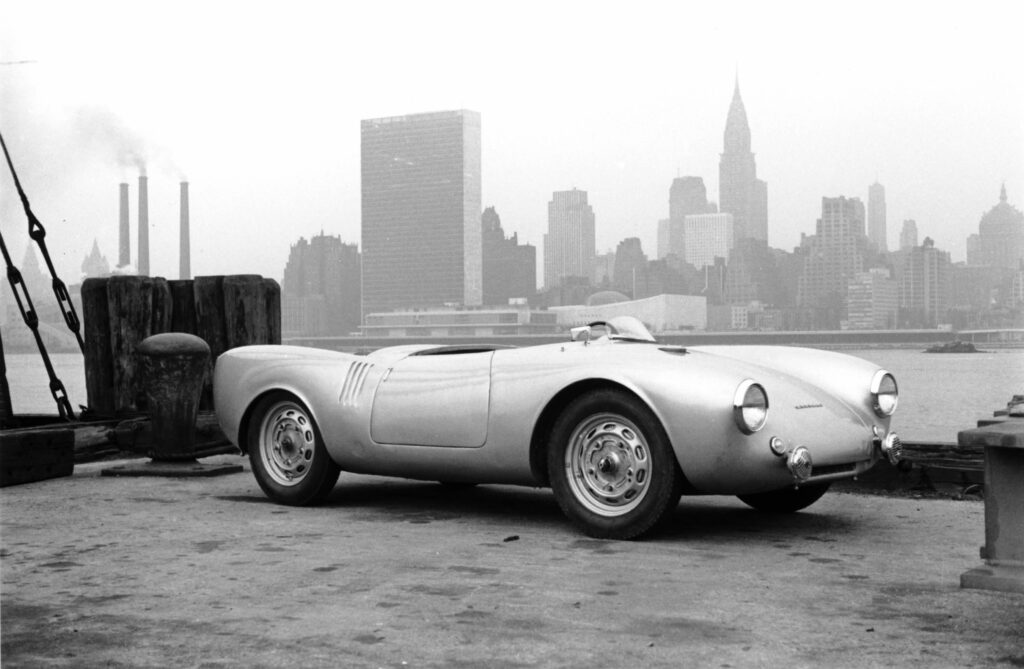 Here's the second press release I came across at Porsche Cars North America. Some great milestones over the past 60 years.
Porsche Marks its 60th Anniversary Year With a Road Trip Past Major Milestones

ATLANTA—August 13, 2010—Over the past 60 years, the Porsche family tree has spread strong and deep roots in American soil. During this time, the company's product portfolio has also grown, from just one model—the legendary 356—to 30 current variants, including the new Panamera four-door sports sedan. In addition to product milestones, countless other markers have signaled PCNA's U.S. achievements, from early victories on the country's most famous race tracks to major sales successes and awards.

Today, as Porsche celebrates its 60th anniversary in America, let's revisit some of the highlights that have distinguished Porsche's journey. Here are just a few annotated events from Porsche's American history book, beginning with one man's passion for a singular German sports car.

1950: Austrian turned New Yorker Max Hoffman, who already established a successful European import business with his Hoffman Motor Cars, introduces the first-ever Porsche 356 to America. Hoffman knows that American servicemen who served overseas in WWII developed a passion for European sports cars. While Ferdinand "Ferry" Porsche hopes Hoffman might sell five Porsches a year, Hoffman explains: "If I cannot sell 5 per week, then I'm not interested in the business."
1950: The first three Porsches arrive on American soil. Two are delivered to a gentleman racer who would become the patron of American sports car racing, Briggs Cunningham. The third remains with its importer, Max Hoffman—who goes on to win the "Most Interesting Car" award at the 1950 Watkins Glen Concours d'Elegance in September.
1951: Fellow Austrian Expatriate Johnny von Neumann, owner of Competition Motors in Los Angeles, introduces Porsche to Southern California after a visit to Hoffman in New York City. Von Neumann counts many celebrities as clients, including James Dean, and helps turn California into the single largest market for Porsche.
1952: The birth of today's Porsche logo occurs when Dr. Ferry Porsche visits Hoffman in New York City.  Porsche sketches the crest for the state of Baden-Württemberg with the black prancing horse from Stuttgart's coat of arms.  He adds the word Porsche across the top.
1953: An exhibit at the Museum of Modern Art opens featuring 10 automobiles, including a 1952 Porsche 1500 Super.
1954: The first Porsche appears at the New York Auto Show, marking Porsche's entry into the mainstream American car culture. Max Hoffman is now selling 11 Porsches per week, totaling 30 percent of all of Porsche's global sales.
1955: The Porsche Club of America (PCA) is established after only five years of Porsche in America.
1956: The first Porsche Parade is held at the Washingtonian Hotel in Maryland just outside the nation's capital.  Sixty-four PCA members attend.
1958: The first vertical-drive inline German engine was displayed at the New York Auto Show.
1959:  Porsche of America Corporation (PoAC) was established in Teaneck, NJ after it became evident that a single corporate entity was needed to import, service and market the German marque. Nearly 50 percent of all Porsches manufactured were being imported to America by this time.
1960: Porsche claims overall victory at The 12 Hours of Sebring with its 718 RS 60 racecar. This marks one of the first substantial American victories for Porsche.
1963: The venerable Porsche 911 is introduced marking a new era of performance sports cars in America.
1968: Porsche achieves first overall victory at the 24 Hours of Daytona with the Type 907-8.
1969: More than 100 new Porsche dealerships open simultaneously in the U.S. as part of a planned marketing campaign heralding the popularity of the brand.
1969: Porsche partners with Volkswagen to build the 914.  250,000 units were sold in the U.S. over its production run.
1971: The first-ever Porsche driving school, a precursor to the current Porsche Sport Driving School, is held in Long Island.
1974: The remarkable Porsche 911 Turbo is introduced making an already-capable performer even more accomplished. The 911 Turbo has remained Porsche's halo car ever since.
1979: Actor Paul Newman wins second place at LeMans in a Porsche 935 Turbo. Newman's fascination with Porsche and racing garners new enthusiasts and further establishes Porsche as a serious sports car.
1983: Porsche places 1-2-3 at Daytona filling the winners podium for the first time in America.
1983: The Porsche 928S is the fastest car sold in North America.
1984: Porsche Cars North America is established and remains the sole importer of Porsche vehicles for the United States.
1996: The Porsche Boxster is introduced with U.S. demand exceeding all expectations.
1998: Porsche introduces water-cooled engines in the 911 after 35 years.
1998: Porsche Cars North America moves its office from Reno, NV to Atlanta, GA.
2000: Porsche wins the GT Class in the American LeMans Series.
2002: Porsche puts the "sport" into sport utility and launches the first-ever Porsche SUV, the Cayenne. The Cayenne becomes the best-selling Porsche in America.
2004: Porsche introduces the Carrera GT super car with a mid-engine 5.7L V10.
2006: The Porsche RS Spyder LPM2 claims class championship in the American LeMans Series.
2009: The four-door Porsche Panamera is introduced with resounding success and tops the Cayenne as best-selling Porsche in America.
2010: The largest Porsche dealership in North America, Jack Daniels Motors in Upper Saddle River, NJ, opens it doors, featuring 25,000 square feet of space and a showroom that can present 30 models.
2010: Nearly 2000 Porsche Club of America members attend the PCA's 55th Annual Porsche Parade in St. Charles, IL.

About Porsche Cars North America, Inc.
Porsche Cars North America, Inc. (PCNA), based in Atlanta, Ga., is the exclusive importer of Porsche vehicles for the United States. It is a wholly owned, indirect subsidiary of Dr. Ing.h.c. F. Porsche AG. PCNA employs 213 people who provide Porsche vehicles, parts, service, marketing and training for its 199 dealers. The dealers, in turn, provide Porsche owners with best-in-class service. Throughout its more than six-decade history, Porsche has developed numerous technologies that have advanced vehicle performance, improved safety and spurred environmental innovations within the automotive industry. The company continues to celebrate its heritage by adding to its long list of motorsports victories dating back to its first 24 Hours of Le Mans class win in 1951. Today, with more than 28,000 victories, Porsche is recognized as the world's most successful brand in sports car racing. PCNA, which imports the iconic 911 series, the highly acclaimed Boxster and Cayman mid-engine sports cars, high-end Cayenne sport utility vehicles and the four-door Panamera Gran Turismos, strives to maintain a standard of excellence, commitment and distinction synonymous with its brand.
[Source & Image: Porsche Cars North America]