Most of you probably already know I'm a dreamer. I think you have to have big dreams to run an exotic car site centered around a marque like Porsche. When a site like Oodle.com comes around, it's pretty easy to get caught up dreaming about the cars they have represented on the site. In fact, I somehow just wasted an entire hour going through listing after listing of Porsches. I had planned to only spend a few minutes looking around!
If you haven't heard of Oodle.com, they've been around for a while. They're an aggregator of classified ads, with some new features that have been released recently. They're a handy source when you're looking for something used. Also, lots of people have successfully sold all manner of items through their site. Today though, I want to focus on the auto listings.
Regardless of what you're looking for, chances are high that Oodle.com has it listed. From a new Porsche Panamera to a used Ford Focus. And everything in between. I suppose you could even find a used Geo Metro if that's what really made your heart flutter. (I'd rather not see any comments about how you LOVE Geo Metro's.)
A quick search of the site for Porsche yields over 20,000 results. I spent the first 20 minutes just going through listings. Here are a couple of that are honorary Tempting Porsche cars: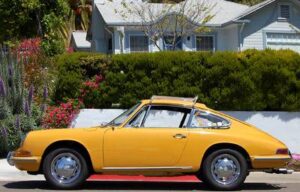 1965 Porsche 912 – Offered at $3,900. Here's some info from the ad on Oodle.com: "The body is rust free, yet carries a C-grade 'Bahama Yellow' paint job that's many years old. There are multiple flaws, such as small dings, scratches, and even some paint lifting. Still, the car is utterly presentable as it is; personally, we wouldn't mind keeping and enjoying it exactly like this. The chrome wheels still sparkle and the tires are excellent."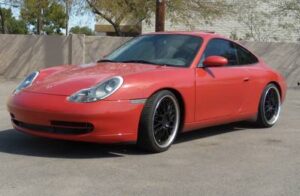 2001 Porsche 911 Carrera 4 – Offered at $23,999. A lot of you will not like the black wheels, but I like em. This one has just over 97k miles on it. Red with gray interior. Some other highlights from the ad are aftermarket 19″ wheels, never seen snow or salted roads, no known mechanical issues.
There are certainly sexier cars out there, but this one is not a bad looking ride. I love the darkened windows, although that's probably a ticket waiting to happen in Oregon.
Those are just a couple of the "usual" cars. Course that led to digging into more exotic Porsches and eventually other exotics. In my search of the Porsche results, I ran across a Porsche 959 and it was game over. 40 minutes later I was still searching through cars and dreaming about all of the possibilities.
Here are a couple more results worth mentioning: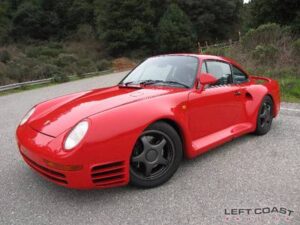 1987 Porsche 959 – The first is the Porsche 959 I mentioned coming across. This impeccable example was purchased new by a collector in Japan, then brought into the US at a later date. The car only has 9k miles on it. Here is a little more info from the ad: "Everything works on this car including the Air Conditioning. Original odometer was swapped out for US compliance when the car was imported with 7,439 miles, current odometer shows 1,679. Total miles are 9,118." Can you imagine owning this car?! Needs the stock wheels on it though.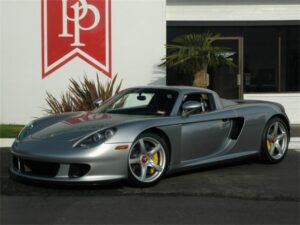 2004 Porsche Carrera GT – Offered at $299,950. After a while, I started going nuts. Looking for the baddest, most expensive Porsches listed. This one is unbelievable. Check out some of these details: "This two owner example surely fits the bill. It is finished in GT Silver over black and has been pampered from day one and sparingly driven less than 5,400 miles since new. All of its servicing is up to date and it comes with complete dealer maintenance history. Also included are the original handbooks, the original $448,300 window sticker, Porsche Certificate of Authenticity, extra key, and clean CarFax. As you would expect, this Carrera GT is virtually spotless and in superb condition."
This is just a small sampling of what you can find on Oddle.com. It's not only a useful place to find a deal on just about any car you could possibly imagine, it's a great place to fuel some of those dreams that remind us how much we love cars like Porsche.
Check out Oodle.com here: Oodle.com.
Disclaimer: Oodle.com paid me for this sponsored post. My thoughts are my own and the fact that I was paid to write the review did not affect what I wrote.