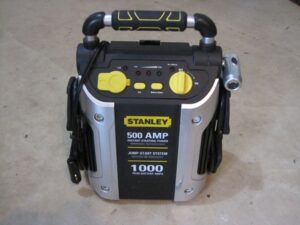 Last week I posted a review of a couple of Stanley products including a Stanley 500 AMP Battery Jump-Starter. We also launched a little short-term giveaway courtesy of Stanley. If you haven't signed up for our newsletter yet, do that right now. It's in the upper right hand corner of pretty much every page on the blog. We don't send out many updates to the newsletter, so it's not like you're signing up for a bunch of crap.
One thought about giveaways. I was amazed last week while signing up for a couple of giveaways myself how few entries many contests get. I signed up for two different iPad contests with one of them only having something like 35 entrants. Not sure why more people don't sign up. There isn't any cost and the time involved is only a few seconds in many cases.
You have until June 15, 2010 to get your name on the list. On the 16th, we'll be selecting a winner from those signed up for our newsletter. You can read the original post here: Tools For Your Porsche Garage: Stanley Battery Jump-Starter & SquidBrite Work Light.