The good folks over at Stanley recently sent me a couple of their products to review. The Stanley 500 AMP Battery Jump-Starter and the Stanley SquidBrite Work Light. Both are very cool, well made, and come in extremely handy in the home garage. Read on to see my thoughts on each and how you can walk home with a Stanley Battery Jump-Starter for free.
Personally, I think Stanley has got to be one of the most recognized brands for home mechanics and general home maintenance tools. Everything from screwdrivers to power tools bear the Stanley name and I, for one, always seem to associate quality and durability to their products. These two items were no exception. Both were nice and solid with the usual rubber grips and durable construction you'd expect.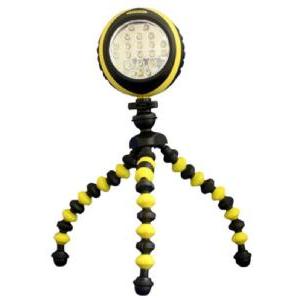 For starters, let's look at the Stanley SquidBrite Work Light. This is by far my favorite of the two items and probably the one I will end up using the most. Here are some quick specs on the SquidBrite:
20 Ultra Bright LEDs
Up to 6 hours of runtime
Cordless operation with built-in rechargeable battery
High-Medium-Flashing modes
Flexible rubber groove stand grips around objects or uneven surfaces
Detachable from stand with a heavy duty magnetic back and base
There's not a lot you can write about a light, except this one is freakin sweet. The LEDs are much better to work with, especially when it's warm and I love how much clearer they light up the area you're working on. The stand is extremely useful with the flexible and grippy legs. Whenever I'm working on tight spots, it seems I'm always balancing a flashlight on some weird perch or trying to grip a small light in my mouth (which tends to be tough on the teeth). The combination of the magnetic back and the flexible grip legs pretty much cover any situation you could find yourself in in your garage.
I tested the SquidBrite in a couple of different scenarios in my garage as you can see from the pictures. Overall, VERY handy. One thing I should tell you though is make sure you check the unit over carefully when you buy one. After listening to something rattling around inside the light housing, I finally narrowed it down to the plastic case being cracked in a couple of spots. Unfortunately I didn't drop the light or knock it against anything. It was shipped to me that way. The plastic parts of the housing are the only drawback I can find for this light.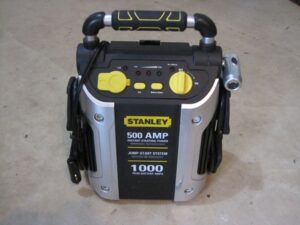 Next the Stanley 500 AMP Battery Jump-Starter. Although not the thing I will use the most, it is easily the one I'll be most glad I have when I need it. I've already dealt with a dead battery in one of my sports cars this year. It happened to be on a beautiful sunny day a few months ago when I wanted to hop in and take a quick ride. Unfortunately the dead battery killed the day's drive.
The Jump-Starter is a compact unit with a rubber grip over the metal handle that's integrated into the rest of the metal housing. There are spots for all the cables and whatnot. It's designed well and is everything you'd expect from the unit with a couple of cool features. Here's the highlights:
500 amps of Instant Starting Power – 1000 peak battery amps
Built-in 120 volt AC charger
12 volt and USB power outlets
LED battery level indicators
270 degree pivoting LED light
This baby does what it's advertised to do, get you on the road when the battery is dead. Nothing more really. Sure the 12 volt and USB outlets are nice, but not necessary. The LED light is a handy little addition, especially if you're working roadside in the dark on a dead vehicle. One handy inclusion for those who are colorblind or simply don't understand red vs black cables, is a reverse connection warning feature that will emit audible and visual alarms when you've got things hooked up backwards. Very nice.
Overall, I know the Stanley 500 AMP Battery Jump-Starter will come in handy over the years. I'm glad to have it in my garage. Which leads me to an exciting bit of news.
Stanley has agreed to give one of the readers at PorschePerfect.com a Stanley 500 AMP Battery Jump-Starter. I'm going to keep things simple this time around and make it easy on you. All you need to do is make sure you're signed up for our PorschePerfect.com newsletter. Signing up is easy, just enter your name (first name is fine) and your email address in the two fields under "Newsletter" on the top right of this post. Everyone signed up will automatically be entered.
The winner will be selected on June 16, 2010, so you need to be signed up before 11:59 PST on June 15, 2010.
That's it! In the mean time, check out these and the other cool Stanley products available at your local retailer.