I'm sure many of you are going to laugh. You might even call me a fool before it's all done, but Porsche made me feel like one special guy late last week. I got home from work only to find a package waiting for me from The Motherland…well, the North American version of The Motherland. After looking at it for a few, trying to figure out what they had sent me, I finally opened it up to find the following nicely wrapped box: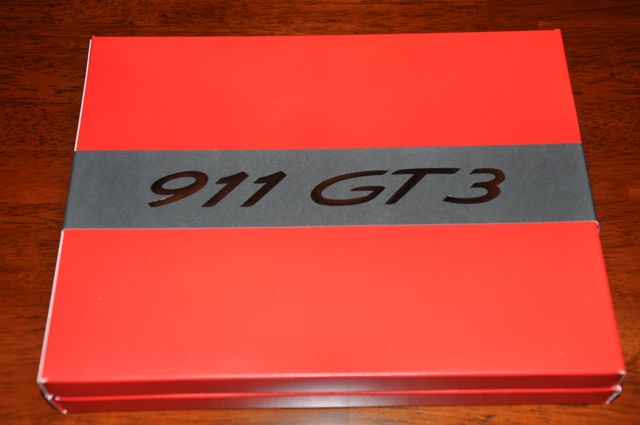 My first thought, "Wow Porsche, you didn't have to get me anything…Oh, alright, you did!" 911 GT3…this HAD to be good!
And here's what was inside: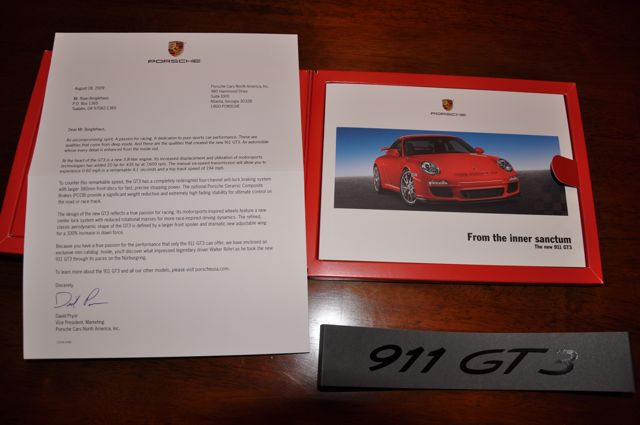 A somewhat personalized letter and a gorgeous brochure "From the inner sanctum" highlighting the 911 GT3. As a kid, I always loved car brochures. I'd pick them up whenever we went to look at new cars. Porsche was, of course, no different. I think I saved some of the literature I picked up at local Porsche dealerships from the 80's. The pictures in this brochure are gorgeous and I love the layout. Took me to another place in time for a few.
Anyway, I just wanted to share. Felt like someone important for a few minutes. Anyone else get one of these beauties?