Today we decided to get someone else's take on what it was like to drive the Giveaway Porsche. So we surprised Deanna, who works in our office, with the keys and sent her on her way. Below are her thoughts on the drive.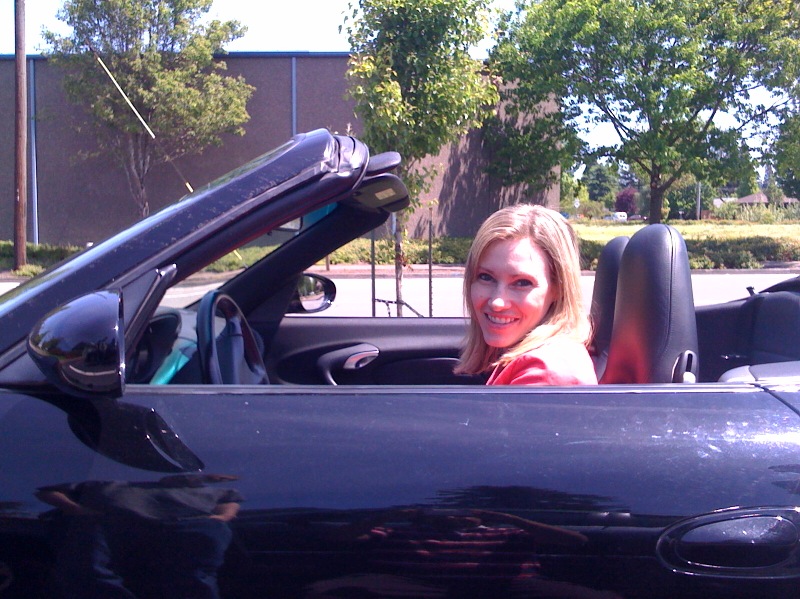 Waking up this morning, I didn't think I would be able to write this post. In fact I never really thought I would ever be able to say that I drove a Porsche. I mean after all it's my daughter's birthday today, not mine. But thanks to my very nice bosses, who showed great confidence in me by handing me the keys to the Porsche 911 Cabriolet, I fulfilled a dream of mine to drive a very fast car.
I was a bit nervous to get in the car, but after the first few minutes and understanding of the gears, it felt like I was meant to be in the car. Ok so maybe that's pushing it a bit but WOW, just getting on it a little pushes your body back against the seat like nobodies business and that feeling is so freaking amazing. At one point I took it to 103, and whipped my hands in the air and of course did the girly thing and screamed. At that point I think I made my passenger a little nervous. Oh did I mention the top was down? So you add that into the equation and you know what I am talking about – total sexiness in one little fast car.
I never thought I was one of those people that would like fast cars until about a month ago when I was taken out in this same car for a drive. I loved how it made me feel so free and exhilarating. Its something that can't be explained, you just have to experience it.
So get out there and experience it, and yes I'm talking to you too Paul!