Joe, one of our PorschePerfect.com readers, sent me a link to a program I hadn't seen before that is offered by Porsche. It's called the First Mile Test Drive. You choose your model, provide some basic contact information and choose your preferred test drive date and time. Your nearest Porsche dealer then confirms your test drive location (whether at your location or at the dealership) and sets things up.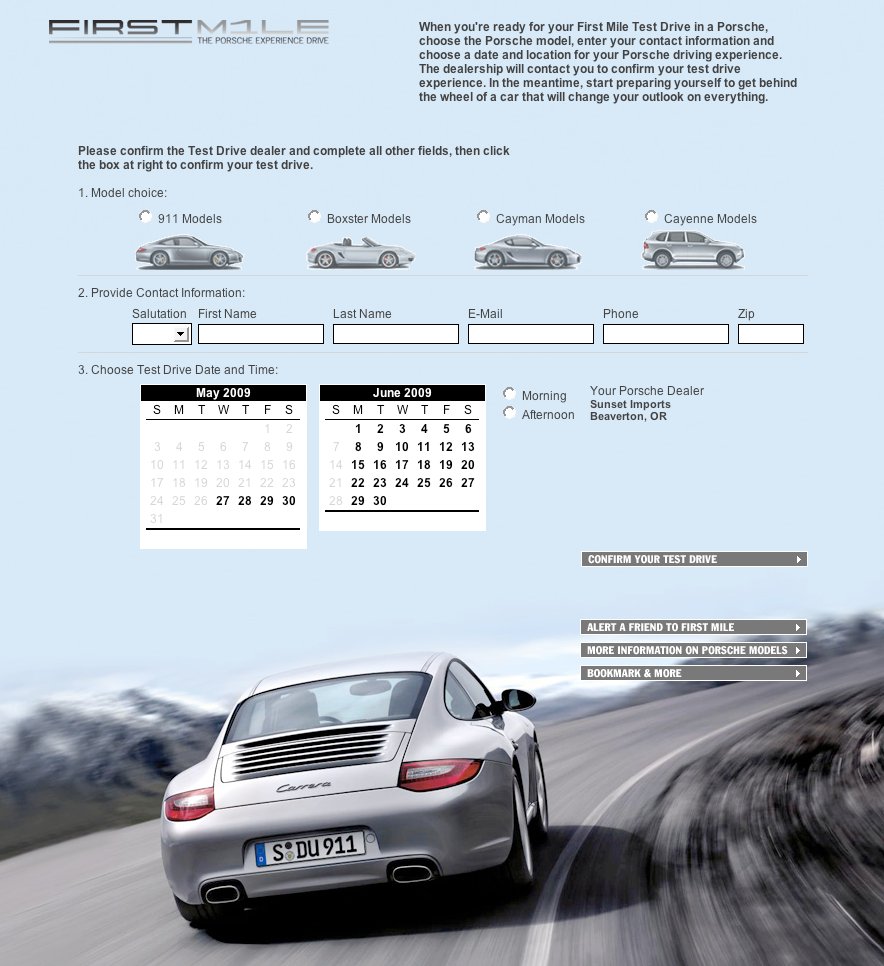 In my opinion, this is a much better use of Porsche resources than an auto show, even though the program is probably not subsidized by Porsche corporate. Getting potential buyers behind the wheel of a Porsche will make a lot more converts that end up juicing the Porsche brand than letting a hundred thousand people gawk at the vehicles from ten feet away outside the ropes.
Don't agree with me? Take another look at Deanna's "life changing" experience in the Giveaway Porsche. You better believe she's going to remember her first time driving a Porsche for the rest of her life and when she has the means, will give serious thought to buying a Porsche of her own. Convert.
Now I know it's not quite the same thing, and that the First Mile program is geared towards qualified buyers, not enthusiasts who don't intend to buy, but my point is, in Porsche's case, seeing is not believing. Driving is believing.
Nothing new, I know, but why isn't Porsche more aggressive then with it's test drives? Back to my post a few days ago about How Fast Can You Test Drive a Porsche?. Why does it seem like Porsche dealerships are so stingy with putting people in the cars? Heck, it's easier for me to get a test ride in a $250,000 Lamborghini Gallardo than it is a $50,000 Porsche Boxster.
And, by the way, I'm not advocating you go out and waste the dealer's time (ruthless, don't blast me), but everyone's Porsche journey has to start somewhere. Why not let the dream start at a Porsche dealership where you will be very likely to consider buying your first Porsche when the finances come about? Seems like a reasonable investment that carries very little cost to dealer's. Tire kickers often become paying customers, even in the exotic car world.
Of course I know there's a whole different perspective dealers have. And I'm sure dealers get sick of dealing with deadbeats, but I think it's sometimes easy for them to lose sight of what they have to gain by treating every person who walks through the door like a potential customer.
But I've digressed. Check out the First Mile Test Drive program. Especially if you are considering a Porsche or something in that range. If nothing else, get yourself on the dealer's newsletter list and let the dream build over time.