Everyone always says you should get an inspection done on any used Porsche you're considering before buying. The car can be expensive to purchase and even more expensive to maintain, so why take chances.
While looking for a Porsche a few months ago, I decided to take one of the cars I was considering in for an inspection before I bought it. The car happened to be a 1999 911 Cabriolet, only in white instead of the black one I actually ended up buying.
The natural place you think of going for such a service is the Porsche dealership, so off I went. I have to say, my experience at Sunset Porsche was pretty good. The service guys I dealt with were nice and answered a lot of questions. Other than going back and forth trying to get the tech on the phone who actually performed the inspection, it was pretty painless.
Here's the thing though. Take a look at the sample of some of the pages, especially the cover page: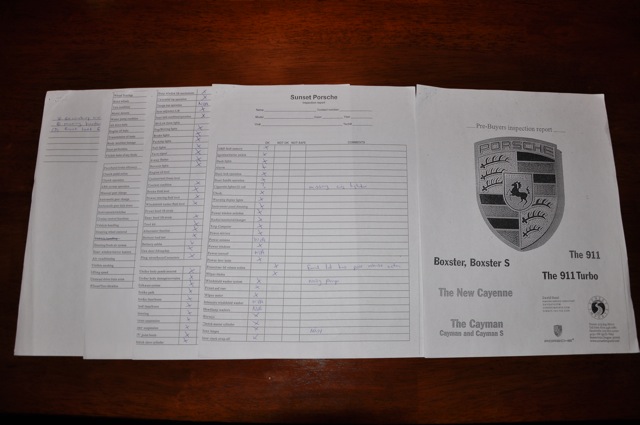 It's probably a little tough to see, but the whole inspection report is like a bad photocopy from a bad copy of several originals ago. It's got grainy effects from dirt on the copier, and the bottom is shifted left like someone put it in the copier crooked at one point.
Now I know it's just paper a tech used, and the real value is in the service performed, but come on, can't they print a fresh copy out for the tech to mark up? After all, this is PORSCHE. I can turn out a better doc than this on my little portable color inkjet. I just think it presents a poor image for a Porsche shop to give a customer this low grade report.
The service, which is really the whole point of the pre-purchase inspection, was really good. They spent about 4 hours with the car going over more things than I would have expected. All the usual stuff, plus things like measuring gaps, looking for fit and finish changes, etc. In fact, they found a few things that appeared suspect leading me to believe the car had been in some type of accident at some point, even though CarFax produced a clean report. I passed on the car for this reason alone.
Inspection Cost: $285
Although I hadn't really thought of it ahead of time, I realized that there are lots of places that can provide inspections of vehicles you're thinking about buying. One of the places I'm hot on at the moment is Gran Prix Imports. Take a look at their inspection report: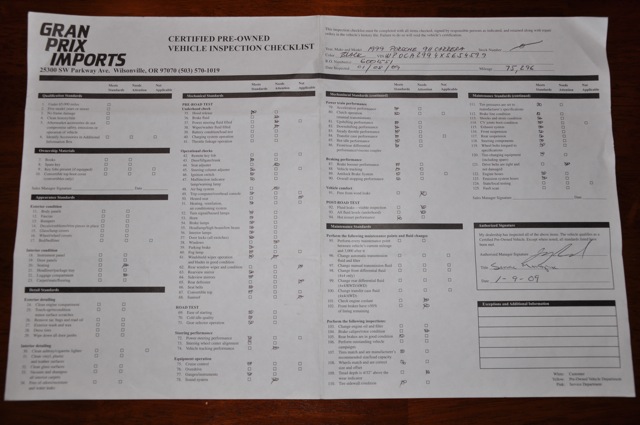 That's much more in line with what I expected to see from Porsche. Covers pretty much the same stuff only much nicer looking. In fact, this one only looks a little beat up because I carried it around for a couple of weeks. Here's the great thing…
Inspection Cost: $200
I'm quickly learning that you really don't need to go to the dealership for much of anything. My first thought is always "the dealer will do it better" but that just isn't the case. There are lots of little reputable shops and other places like Gran Prix Imports. Heck, Gran Prix is the Portland Lamborghini dealership. A different beast altogether, but the level of technical expertise and service required is at least equal to what Porsche would require, if not greater in my opinion. I've found their work on the Giveaway Porsche to be excellent. I've also talked to a couple of other Porsche owners who use them for their service work.
Bottom line, a pre-purchase inspection is a must unless you're mechanical. Even then, the couple hundred bucks is a worthwhile investment to avoid a major ownership disaster. One piece of advice, make sure you go over the inspection with the mechanic who performed it. Preferably while the car is still in the shop.