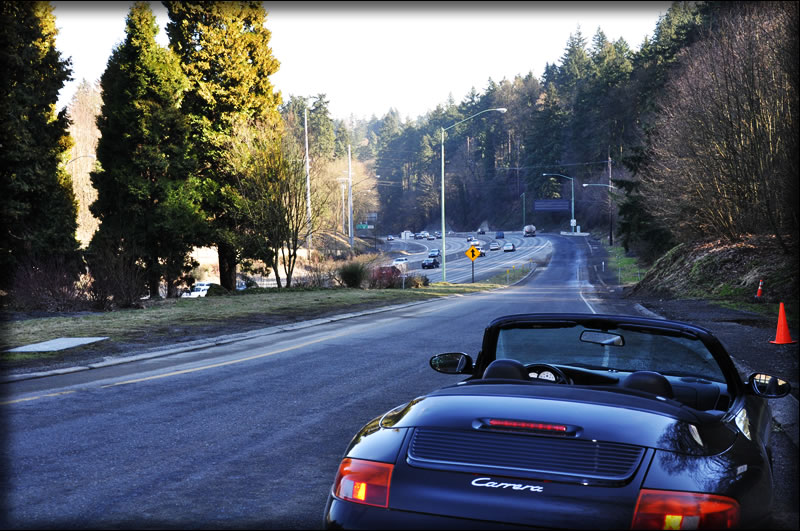 It's pretty easy to get locked up in the day-to-day hustle and bustle of life. Raising a family. Running a business. Working hard every day. Or whatever it is that takes a solid chunk of your time. Even though driving a Porsche every day is a dream come true for me, it hasn't changed my schedule at all (obviously). However, something I'm trying to do more of, is enjoy little snippets of Porsche ownership. Even though I may be racing from place to place (that's one way to enjoy Porsche ownership), I'm trying to take full advantage of the car I get to drive everyday.
Here are 3 ways you can enjoy your Porsche a little more often, even if you don't use it as a daily driver. Heck, you could take advantage of just about any car this way and just enjoy the driving in general.
On a sunny day, drag out the convertible or targa and take the top off. Even if it's 40 degrees out, crank up the heaters and enjoy the sun. In the Pacific Northwest, we learn to take advantage of ALL sunny days, because you never know when you're going to be sitting in the middle of 100 days straight of rain. Sure you may feel a little funny, like people are pointing and laughing or making comments like "It's a little too cold out to be driving with the top down", but that's only because they don't own a convertible. Try it, it'll put a smile on your face.
Non-Convertible/Targa Option: Crank all your windows down, blast the heat and some tunes and enjoy the sunny, fresh air!
Take the long way around to your next destination. This can be great on a sunny/cloudy/snowy/rainy day. Take a road that brings back some memories. Or one that affords some beautiful scenery. The picture above was a drive like that on a rare sunny winter day last week on my way to Downtown Portland. It was actually the first time I'd driven the Cabriolet with the top down. I decided to take an extra 15 minutes and drive down Hwy 26 into Portland. I love the drive down through the west hills on the tree lined highway. Put a smile on my face for the rest of the day.
Take a drive on your lunch break. Sure you can sit and surf YouTube videos on your lunch, but instead, get out and enjoy a drive close to work. Fire up Google Maps and find a little road or two with some curves to challenge your driving skills a bit and have some fun in your car. You don't need to go out and race the road, just enjoy and push yourself a bit. It will challenge your mind and be another smile inducing exercise in an otherwise mundane day for a lot of us.
More than anything, I hope we're all reminded of the wicked cool cars we get to drive on a regular basis. For those that don't have a Porsche yet, I've been there. All I can say is you're never too old to use your imagination. Get out there, pretend you're in your dream Porsche, and have a little fun. The day will come soon enough that you'll be driving the real thing.