While searching for a Porsche, I've spent a lot of time looking at ads, dealerships and eBay trying to get a feel for what's available on the market, how prices are comparing to blue book prices, and where the best deals are. I already have a decent idea of what I'm looking for, but I've been trying to pay attention to the market in general.
One model that I can't believe is so cheap is the Boxster. Not that I'd expect Boxster prices to exceed similar model year 911s or Cayennes given their entry level pricing to begin with. But a Porsche, less than 10 years old, for under $10,000 in many cases, just seems crazy. If I wasn't set on finding a 911, I would consider half a dozen Boxsters in my area, especially since you could swing an extra good deal, drive it for a while, then potentially sell it and recoup most, if not all, of your money when the economy turns back around.
Here's a sampling of what I found in the Portland, OR area for Boxsters on Craigslist.com for the last 5 days: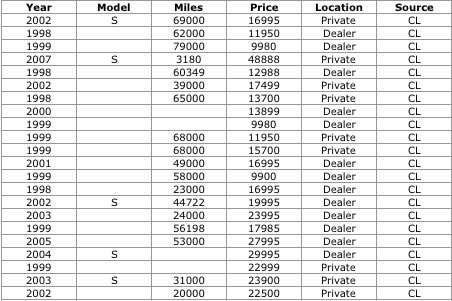 I also check the local newspaper classified ad sites every once in a while. Every listing from today was a dealer listing with 90% of them being from the local Porsche dealership for newer 911s and Cayennes. The 3 Boxsters listed were a 2002 Boxster S for $18,988 with 63,264 miles, a 2001 Boxster S for $20,888 with 52,694 miles and another 2002 for $21,995 with 59,985 miles. All were listed by dealers.
The final source I checked today, eBay Motors, was all over the board as far as cars offered and pricing. I focused primarily on completed listings marked as Sold. I could only find a handful of Boxsters that had actually been sold out of the 311 matches found. One listing that caught my attention was a 1999 Boxster with 100,000 miles and a "Clean Title" that sold for $4,200 out of LA. Check out the initial picture:
Nice right?! Well then farther down in the posting you come across a series of pictures that starts with the following:
People talk about finding great deals on eBay Motors, but there seems to be so much more risk involved in dealing with sellers not local to where you are. It's risky enough buying a car locally. I suppose there are some solid deals to be had if you're patient and careful enough.
Based on the comparison of cars on Craigslist.com, buying from a dealer seems like where you'll find the best deal at the moment. Most dealers are significantly down over the last 6 to 12 months and I've found them to be very willing and ready to deal. The private party cars all seem over priced given the current market conditions.
One Boxster I found at a local used car dealer almost swung me to consider a Boxster over a 911. It's a 1998 with only 23,000 miles and the usual assortment of goodies for $16,995. A couple of things got me about the car though. The burnt orange interior with sports seats (part of the Sports Package) and the black 18″ alloys. I love the look of the car:
Although Boxsters are entry level Porsches, they're still Porsches. A Porsche dealer mechanic tried to talk me into looking for a Boxster S after I had him do a pre sales inspection on a 911 Cabriolet I was looking at. Most of the cars I've looked at over the past couple of months are all priced well back of book values. Definitely a great time to buy a car like a Boxster, drive it for a bit and potentially sell it for even money.