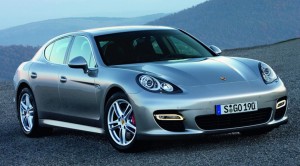 4 doors…911 styling…plenty of power…Seems like the Porsche Panamera could be a decent addition to the Porsche lineup.  We'll start seeing the car in 2009 for the 2010 model year.  Engines will be pulled from the Cayenne line with plans for a hybrid at some point in the future.  Hopefully they'll be able to sell out the 20,000 units projected.
I'd forgotten that Porsche has tried to go the longer wheelbase route several times in the past. I remember now reading about the 911 and 928 attempts back in the 80's.
Porsche 989 (1993)
chief). Engine was to be front-mounted 3.6-liter V-8 with 300 horses. Mechanical mules built using Stillborn four-door developed by then head of R&D Ulrich Bez (now Aston MartinE-Class bodies hit 60 mph in about 6.0 seconds, and planned top speed was 170 mph. Three full-scale models were built. Styled by Harm Lagaay, they looked remarkably like an elegantly stretched 911. Insiders claim the interior package rivaled contemporary BMW 5 Series.

Porsche 928S (1984)
Built as a 75th birthday present for Ferry Porsche, this 160-mph four-seat 928 had almost 10 inches inserted into the wheelbase, and a more upright B-pillar and longer roofline for better rear-seat headroom.

Porsche 911/C 20 (1970)
The wheelbase of this one-off was extended by a massive 13.6 inches, resulting in dachshund proportions and a turning circle the size of the Bismarck's. It was powered by a 180-horse, 2.2-liter flat-six.

Porsche 911 B17 (1969)

Pininfarina put 7.5 inches into the wheelbase of a regular 911, all of it behind the B-pillar. The weight ballooned to almost 2500 pounds, killing performance, and the roofline looked a VW Type 3 Fastback's.(Read More)
Based on the photos, this is the shrunken down version of the Cayenne that I could actually see myself driving. It's an interesting blend between the 911 lines and a modern 4-door sedan. For some reason, from the front, the initial thought that pops into my head is "Mazda". Of course from other angles the tie-in to Porsche's heritage become more apparent.
I'm interested to hear what other Porschephiles think of the new addition.