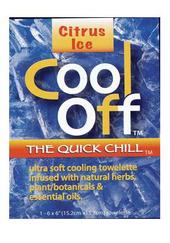 Do you ever wish you had a blast of cold air, or a quick chill on a really hot day while out driving your Porsche? Sure you could crank up the A/C and roll the windows up, but there's just something about a warm, even hot, summer day blasting around in your favorite ride.
Wouldn't it be nice if you could have the windows down, warm air blasting in your face, AND get a quick chill cooling at the same time? Yes, I'm talking about having your cake and eating too!
A company named Just 2 Cool promises their Cool Off product will darn near do just that. Cool Off is a natural, personal cooling towelette the company claims will invigorate and refresh you whether you're behind the wheel of a Porsche 911 GT3 RS on the race track, or simply spectating race day from the stands.
They sent us some samples to test out. Since I don't have much of an opportunity to race, I decided to throw some into my pack for a day hike my wife and I took with some friends.
It was a hot day, a rarity this year in the Pacific Northwest, setting us up for a good test of the Cool Off towelettes. On the return leg of the hike, all 4 of us were sweating up a storm with the sun beating down. We stopped about half way back and I broke out the Cool Off towelettes. At first, it felt kind of like rubbing one of those moist towelettes they hand out with a plate of ribs on your face and neck. I was a bit skeptical these worked.
After about 60 seconds, the cooling effect seemed to kick in. I definitely felt refreshed and cooled off. I don't know that I'm in love with the Citrus Ice scent, but I do have to say I at least felt some quick relief from the heat. What's more, my wife and I both felt a bit of the cooling effects for another 15 or 20 minutes.
The Cool Off cooling towelettes are infused with a clean-scented formulation of natural ingredients that include cooling herbs, botanicals, and essential oils. This residual on the skin is what helped prolong the cooling effect we felt.
Overall, I don't know that I'd rush out to buy a box of Cool Offs, but I sure wouldn't hesitated to try them again, especially if you're sitting somewhere hot with no hope of relief from the heat coming (a Boston Red Sox game a couple of years ago comes to mind).
I have one Cool Off left. I'd like to send it to someone who would try it while driving their Porsche in the heat and report back what they think. If you're up for the assignment and don't mind giving your thoughts, let me know via the Contact page and I'll get this over to you.
You can check out the Cool Off product at TheQuickChill.com.