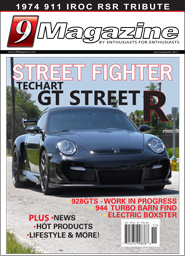 I've mentioned 9 Magazine, a Porsche enthusiast magazine, a number of times in the past. It's a great publication with solid coverage of the Porsche marque and some gorgeous photography. I love the up and coming feel of the magazine, especially after the redesign last year.
Here are a few stories from recent issues:
Techart GT Street R – A review of the 670 hp monster
944 Turbo Barn Find – I LOVE the barn find stories, the finder bought this one sight unseen
Ultimate Speedster – Covering a one of a kind 993 Speedster
2010/11 Porsche Resource Guide – A comprehensive directory of Porsche resources
Vincent, the editor of 9 Magazine, has generously offered up a couple of subscriptions and 9 Magazine t-shirts to a couple of lucky PorschePerfect.com readers. So we're going to run an informal giveaway for the next few weeks.
For the next 10 days, to enter yourself in the free magazine/t-shirt giveaway, all you need to do is visit 9 Magazine at 9Magazine.com, then come back to this post and add your favorite story you found either on a 9 Magazine cover or from the stories covered on the site.
A winner will be randomly selected from those who leave a comment on this post with the title or description of their favorite 9 Magazine story. Our first winner will be chosen on August 19th.
This is going to take you all of 5 minutes to complete, unless of course you get caught up in the 9Magazine.com content like I have a tendency to do. So get on it!