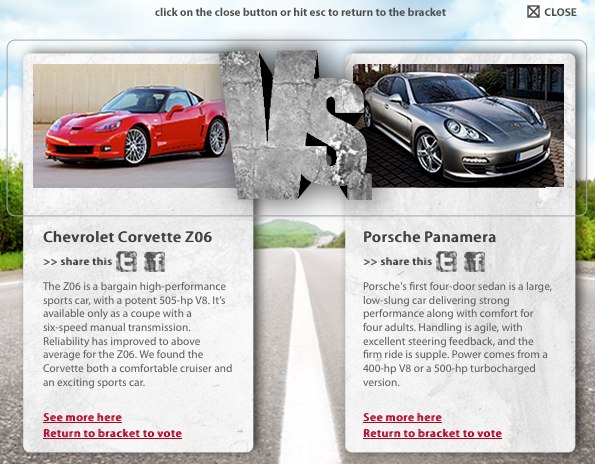 I think I've brainwashed my kids. Neither of them like Corvettes. I'm not a Corvette hater or anything crazy like that. At one point in my life, I may have even enjoyed owning one, but any more, they just aren't a car I'd like to own. Every month or two, someone in the family will point out a Corvette and follow it up with the typical disapproving comment.
The Corvette, for me, seems to represent the opposite of the Porsche, even though it's more similar than it is not. Reminds me of the movie Unbreakable. The Porsche needs an arch enemy…and that seems to be stuck in my brain as being the Corvette.
It's interesting that today I received an email from an agency working with Consumer Reports about a little showdown coming to an end. It's called Moto Madness Driver's Choice Challenge and features 32 cars that have been whittled down to just 2 competing for the championship: Chevrolet Corvette Z06 and Porsche Panamera.
It's now down to consumers (that's us!) voting. To vote, all you need to do is head over to the Moto Madness Driver's Choice Challenge, click the red Go To The Bracket button, click on the Porsche Panamera and hit Submit. You don't have to sign up for anything, give them any info, nothin. Just vote.
Let's show those Vette owners the power of Porsche!
Vote here: Moto Madness Driver's Choice Challenge.