Over a year ago, one of our fellow PorschePerfect.com readers named Shane sent me an email about a 356 Outlaw project he decided to embark on. I did a little writeup on it near the end of 2009 (Porsche Outlaw 356 Project). Shane finally completed his car and literally his first time even seeing the car in person was the finished product.
The car was taken from this (the condition the car was in when Shane purchased it sight unseen):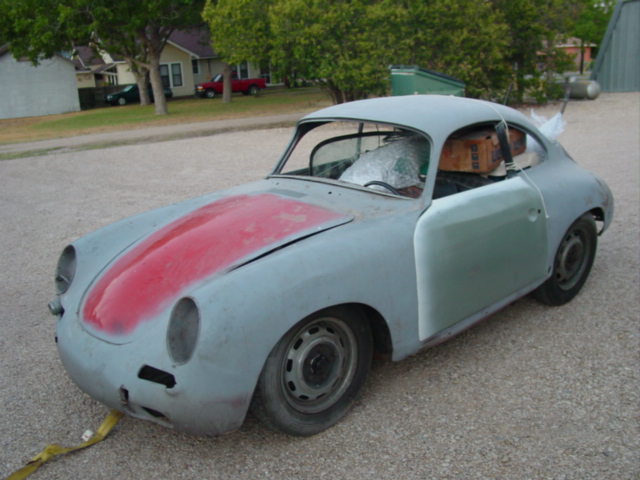 To this: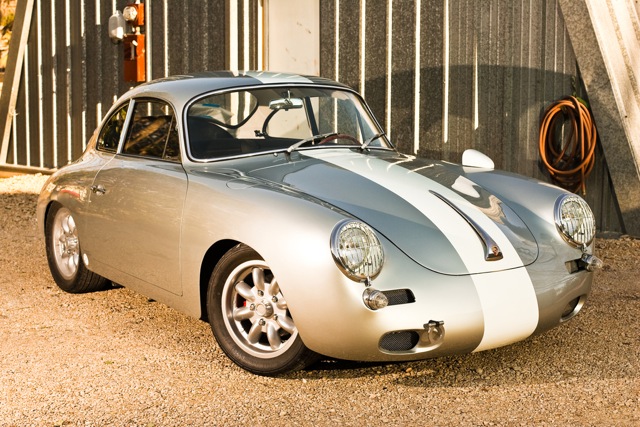 Simply UNBELIEVABLE! I don't know how many people I've shown this car to, and every time I pull up the pictures, it's like I'm seeing them for the first time. They are so captivating.
Here are the original specs on the car from the Certificate of Authenticity:
Year: 1965
Vehicle Identification Number: 222063
Model: 356C / 1600 SC Karmann Coupe
Production Completion Date: February 19th, 1965
Number of 356C Coupes Produced in 1965: Only 1101
Transmission Number / Type: 85879 (741/2C)
Original Paint Color / Code: Ruby Red / 6402
Interior Material Color / Type: Black Leatherette / B
Optional Equipment: Ventilated Chrome Wheels with Phoenix Tires (165/15)
Suggested Retail Price in 1965: $4,685.00
Shane was kind enough to send over more pictures along with the following thoughts on the project, car and process:
What turned you onto the idea of a 356, and in particular an Outlaw style car?
I always thought my first Porsche would be a 911, not sure why that was, but in my mind that was the car for me. So when I decided that I wanted to try and meet this goal of mine that I set earlier in my life I started looking at that model. I always knew that I did not want a modern car, my thought was anyone can go to a car lot and buy a car right off the lot if you have enough money, that did not appeal to me. What I did not want is to buy a new Porsche and then someone else would pull up next to me at a stop light with the same car, kind of silly but a concept I did not care for. So I started looking into the early 1970 911 cars and what I found was the granddaddy of all things Porsche, the original model that started it all, the 356. I think it was the history that surrounded these cars that made me quickly realize that this was the model for me. James Dean, Janis Joplin, even though it was a fake the Speedster in Top Gun, all these realizations came to my head about the history and pedigree of these cars and it was a no-brainer at that point.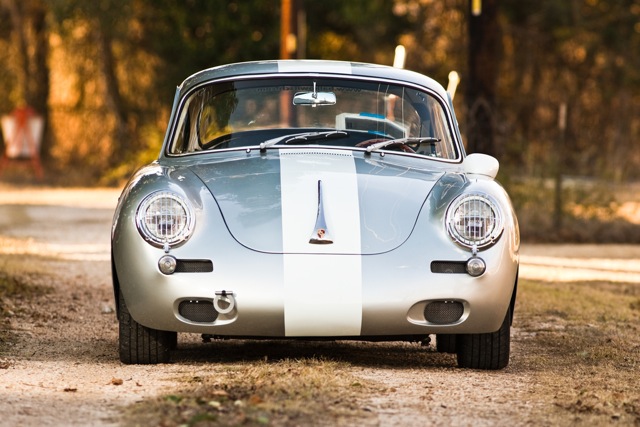 As for why an Outlaw, I started looking at hundreds and hundreds of images of 356 cars and I just gravitated towards the Outlaws. Not that the stock cars are not nice, but if I was going to go through the trouble of building a car from scratch, why not make it my own. With a stock car everything is already laid out for you, the decisions have been made, with an Outlaw the sky is the limit and that is what I wanted. I kept saving images of cars and details that I liked about the early Porsche model and these images inevitably were of Outlaw cars. So very early on with my conversations I was telling Bill we are going to do an Outlaw. He was very supportive and said that if we were going to do an Outlaw there is a right way to do one and a wrong way to do one and that he would show me the way. I should also state that I never plan on selling this car unless for some reason I cannot feed my family, but the car will be with me for the rest of my life and I am not worried about resale value and with that concept I am set free not to worry about things other people would worry about. For instance, if we were not going to have bumpers, we were going to weld the bumper holes shut, something many Outlaws would not dream of doing because some day they may need to put the bumpers back on the car in order to get more money from their investment. I had no such concerns. Another instance is that we removed the very bulky and rather afterthought ashtray that come on the 1965 models, it looked like an afterthought to me and I am not a smoker and being an Oncology Nurse, what do I need an ash tray for? Hold change? I did not think so, so Bill chopped it off the dash and the appearance of the dash is must more sporty and "less is more" kind of thing. Just a couple of examples of our mentality when it came to the car, do it the way we want, don't worry about the cost and don't worry about getting our money out of the car, this is not an investment, it is a dream come true.
How did you arrive at the engine spec?
Well since we knew we were going through the entire car and that would include a full rebuild of the motor, why not go big? Again budget was not much of an issue and when I stared reading books on how to make a 356 go fast, it became evident that we had many choices and options. What I did not want to have happen is to use a motor not native to the car. It may be for some guys but putting a 911 motor into a 356 really defeats the purpose and takes away from the pedigree of the car. If was too worried about speed, I would have got a 911 Turbo, that is not what I was looking for, I wanted vintage motor sporting and I wanted to make sure we stayed with a stock case and stock heads. What I love about my car now that I think about it is that it is a "sleeper", if you look under the deck lid you will pretty much see stock car except for the Webers. What you do not see is the performance parts and modifications that are the heart of the motor. My Uncle Tom Huber who has worked on hotrod cars for 40 years just shakes his head at cost of these modifications and parts, we could have purchased two big block crate V8 motors for the same investment, but then again they would not have Porsche stamped on them. We knew the stock SC motor put out about 95HP and we knew we could improve on that. Our goal was 150HP using the original case and heads, a daunting task indeed but for a car that weighs less that 2000 pounds, a significant performance improvement over stock. It should be noted that from my research, less than 400 cars came with an SC motor in 1965, that was for worldwide distribution.
Do you have the full engine spec available?
Scat racing crankshaft – stock stroke
Carrillo connecting rods
1883cc Nickies cylinders with JE lightweight pistons
LN Engineering performer camshaft
LN Engineering – CNC designed heads
Aluminum oil cooler
Chromoly pushrods
Petronix ignitor
Weber 40IDF carbs
Competition Engineering machine work
Precision Matters full flow oil filter
Stebro Stainless quad slant tip exhaust.
Who chose the paint scheme, and why?
I am very happy to say that the paint concept and the white race stripe was completely my idea, and Bill did share with me that he was not too fond of the white stripe on paper, but now that he has been around the car for so many months, I think the scheme has really won him over. One of the most interesting aspects of this build to me is the selection of paint colors. I knew that I wanted a silver Porsche, but I was very naive to think there were only a couple of silver colors available, there are a million shades of silver and with my research I thought to myself, if we are going to do silver, lets do "the" silver of the first Porsche ever, the infamous K45-286. So I sent some emails and made a phone call to the Porsche Museum in Stuttgart. I got the name of a curator by the name of Jens Torner in Germany. He was very helpful and provided the paint codes we needed to try and match the very first infamous car.
Tell me about the interior – Speedster seats were an early choice, but what else?
After looking and researching the early cars it made sense to go with the Speedster seats, this was going to be a race inspired Outlaw so they were a must. I also love the fact that James Dean spent his entire first paycheck as an actor on his first Porsche. I think his story was tragic but was also inspiring. We also went with the WWII B2 Bomber seat belts another feature many of the early race cars utilized. The wood Derrington steering wheel was also a must have just because it so much more interesting than a stock '65 steering wheel. No sun visors were needed, heck we will be wearing our sun glasses when we drive this bad boy, so save on the weight is the way I looked at it, again "less is more". We also got a Emory Motorsports German Adler "bird of prey" shift knob, another no brainier. The Emory family has a longstanding history of making top of the line Outlaw cars and Rod has also been supportive through my restoration. In fact, he has promised me a Emory Outlaw Badge for the grilles on the back of my car. This is a very coveted piece of metal and it is an honor, you cannot buy them, his family must present one to your car. He has already promised that I have earned mine and the next time the jeweler makes a batch, one is coming for my car. These are all handmade, again a true honor. We also got ourselves a set of aluminum race pedals, why, for no other reason than they look mean.
Tell me about the exterior?
I loved what these early 356 and the Spyder cars meant to James Dean so I wanted again to tip my hat to him and the 550 Spyder that he died in so tragically. So I went with a Spyder driver's side rearview GT mirror and a Spyder license light housing. In order to have a true outlaw, the bumpers had to go, and with no bumpers we had no way to illuminate the rear plate. So I found the Spyder housing and we utilized that, it goes very well with the rest of the lines of the car. Since this was going to be race inspired, we decided to get a race tow hook up front and I think it turned out very well, from Rennline products. All of the vintage racing pictures of 356 cars were usually taken on dirt and gravel roads and to celebrate that heritage we went with the front headlight grilles. Another personal touch to the car was paying homage to Dean Jeffries and finding a set of German Iron Cross torsion bar covers. You see, in 1956 Mr. Jefferies built what most people refer to as the first Porsche 356 Outlaw. In fact a gentleman by the name of Jack Walters is presently restoring the old Dean Jeffries Outlaw right now and it is going to be magnificent. I also was able to research that Mr. Jeffries was the painter that put the 130 on the side of James Dean's car weeks before the crash and he also did the paint scheme for James Dean, which is very cool. Dean Jeffries fabricated his own pair and I found a set of reproduction covers and they look fantastic. I have the stock ones also but I do not see myself swapping them out. The history behind the German Iron Cross goes back over 500 years and it really was a positive symbol until WWII and Hitler decided to have his way with such historical positive insignias. So what we are doing is displaying the Iron Cross with pride and erasing a little bit of the damage Hitler did to this history of this image. The car was Made in Germany, my descendants are German, so it is on my car as part of my heritage as well.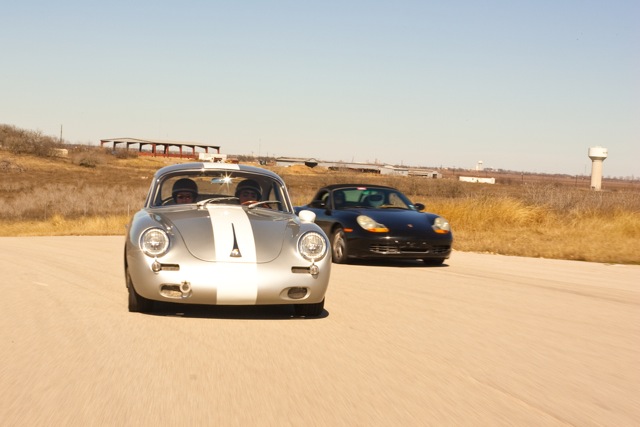 How long did the project take?
We overnighted a money order for the car on the 4th of July, 2009. We finished the build for all intensive purposes on January 18th when Bill took the car on the road for the first time, so to answer the question about 18 months.
Did the car live up to my expectations?
The entire experience and the final product have completely exceeded any expectation I had for the car and the attention the car received at the track at Harris Hill Road was also confirming our thoughts that this is a pretty special car.
Would I do anything different?
No, I think we made all the right decisions to make it everything it could be. Bill has allowed me to make this car mine in every way and I am thankful for that.
What are your plans for the car now?
The only plan I have for the car is to drive it. This is not a trailer car or a show car. It was put together by Bill to be driven and enjoyed. I understand my role as the caretaker of this wonderful car for years to come and I hope someday my kids look back at the car and the process, and even scratches and maybe dents and say "Dad did that". I have documented every aspect of the build also for the next caretaker to enjoy. I truly believe this is a once in a lifetime opportunity and I am treating it like that.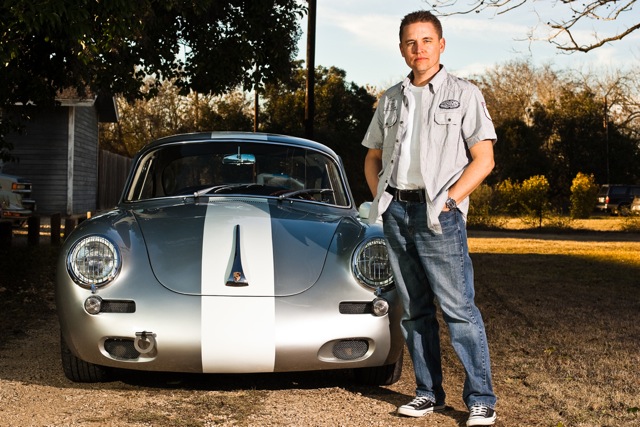 Final thoughts?
I am just very grateful to be able to pull this restoration off. As a young boy if you would have told me that this would come to fruition I probably would not have believed you. There have been so many people in the 356 community that have assisted me and contributed to my car and I am very thankful to everyone that took the time to help me. I am mostly grateful to Bill and Mick at Hamilton Classics not only for a wonderful car but for the friendship we have created over this past 18 months. I am not just a customer to him and he is not just a guy with a wrench to me. He is a mentor to everything 356 and I am very lucky to have stumbled upon Hamilton Classics early on in this process. At the end of the day, it is just tin, leather and rubber, but what special tin, leather and rubber it actually is. To think this car had no chance at the road, 25 years in a garage in terrible condition but now it is back on the road and not only that, it was out on the track for a glorious day on January 22nd. I will never forget this process and I hope the car has many many more years on the road until it's next caretaker comes along and decides that it is special enough also to save once again.
Such a great process. Thanks for sharing with us Shane!