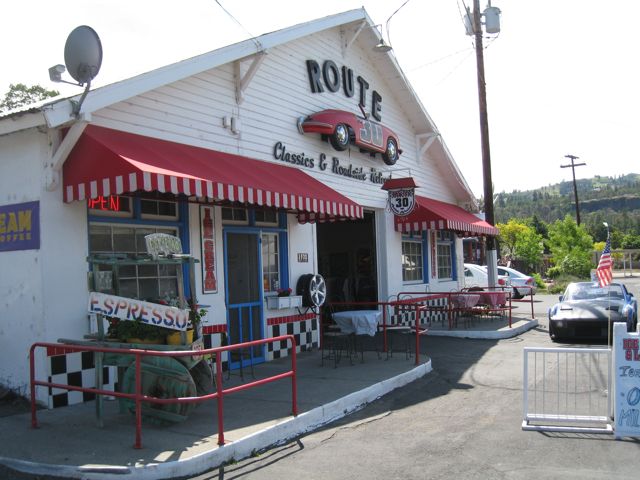 My wife first stumbled across Route 30 Classics a few years ago while on a bike ride in the area with some friends. As soon as she told me about it, I was ready to roll that day, but it took another year to actually get back there. Unfortunately it ended in a failed attempt to get through the doors.
Route 30 Classics is a little over an hour out of Portland, Oregon, on the Columbia River Gorge right off I-84. The name of the town it's in is Mosier. There really isn't anything there other than a couple of restaurants (that happen to be very good) and the Porsche Ice Cream Shop as I've come to call it.
About a year after my wife told me about Route 30 Classics, we ended back up in the area for a soccer game for my son. I'd had all sorts of intentions of getting there for a blog write up in the Giveaway Porsche, but never made it, so this provided the perfect opportunity to take advantage of a heck of a long drive for a middle school soccer game. After the game, we made our way over to one of the restaurants, right next door to Route 30 Classics.
We finished dinner and walked next door to get ice cream along with some pictures of what was inside this Porsche time capsule. It had CLOSED in the time it'd taken us to eat dinner! Big time disappointment.
We FINALLY made it to Route 30 Classics, while it was open, when my wife and I went to Hood River for our anniversary. Hood River is along the Gorge as well and just a few miles away from Mosier. Needless to say, it was worth the multiple attempts to get there.
When you walk into the place, it feels a bit old and run down. There are shirts and other Route 30 Classics trinkets you can purchase, as well as a few Porsche accessories. What I found extremely cool were all the pictures along the walls. Different write ups on the place, celebrities that had visited and pictures of various Porsches throughout the years. This picture and note from Jerry Seinfeld's visit to Route 30 Classics was my favorite: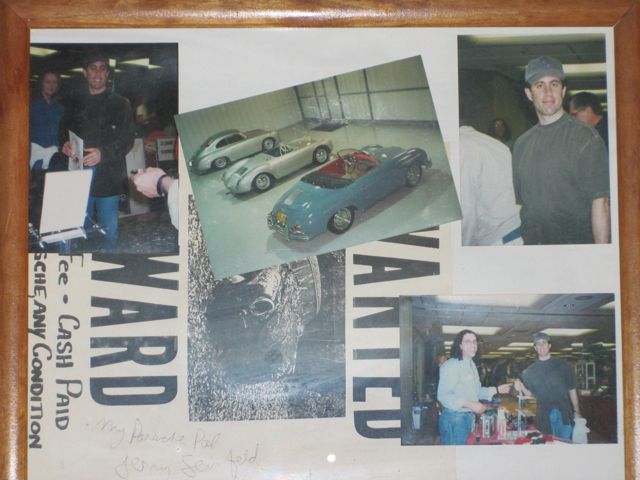 The wide hall through the middle of the place leads to a garage/shop sort of space in the back. It's roped off, but had a couple of nice older Porsches in the back. A Porsche 914 and what looks to me like a Porsche 911 Targa (correct me if I'm wrong). Both appeared to be in great condition from a distance. The place was pretty dark, so the pictures are a bit on the dark side.
They also have a big display case with all sorts of Porsche models and miniature cars. Between that and the Porsche posters on the walls throughout, it felt like I'd been transported back to my room when I was a kid. I didn't get a chance to meet the owner, but maybe I will when I get back to the place.
Route 30 Classics is definitely worth the visit if you're in the Portland area. It's right off the freeway, and the Gorge on a sunny day is one of the most beautiful places in the world. Lots of water falls, hiking trails and scenery to take in.
Here's a link to the Route 30 Classics site if you want to take a peek: Route30Classics.com. Not much there, but some great Porsche pictures on the Cars page.