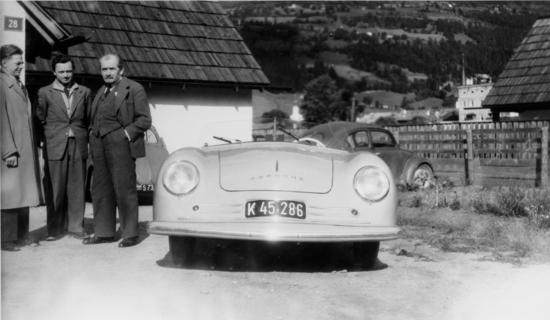 I ran across this old press release and photos about Porsche No. 1 as it was headed to Pebble Beach Concours d'Elegance a couple of years ago. This is great history lesson on the first Porsche ever build (and driven) way back in 1947/48. For those of you who don't know the history of the first ever Porsche, this is a must read.
Great pictures too!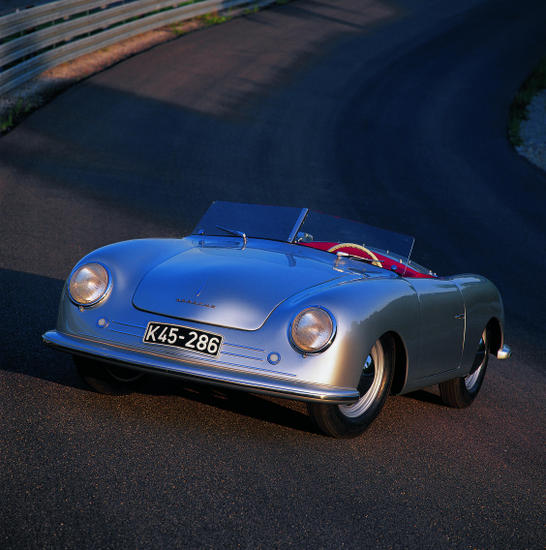 Atlanta, August 5, 2008 – Porsche No. 1, the one-of-a-kind, two-seat sports car Dr. Ferdinand 'Ferry' Porsche developed and built after he searched and was unable to find the car of his dreams, makes its North American Concours d'Elegance debut when it joins other notable and historic vehicles August 14th at California's famed Pebble Beach Concours d'Elegance.

This occasion is a happy one as Porsche No. 1's first North American trip, to Porsche's 50th Anniversary celebration at the Monterrey Historics in 1998, was thwarted when it was damaged in Chicago on its way to California. This trip also is special as it helps commemorate Porsche's 60th anniversary. Before arriving at the Pebble Beach Golf Links®, Porsche No. 1 had a starring role in Porsche Cars North America's 60th Anniversary celebration at its Atlanta corporate headquarters.

Affectionately called Porsche No. 1 by the Porsche family and thousands of the brand's loyal followers worldwide, this legendary sports car and the lynchpin of Porsche's design philosophy began life in June 1947 as engineering project Type 356 in the Porsche design office in Gmünd, Austria. Officially known as Type 356-001, Ferry Porsche's design concept took shape through the leadership of Karl Rabe, Porsche's talented chief designer who worked alongside Ferry's father to develop the original Volkswagen (VW).

In post-war Germany and Europe where resources were few yet the desire to rebuild was strong, the Porsche team diligently started building the innovative sports car. Starting with a hand-built tubular steel frame, engineers fitted already existing VW components including the suspension, headlights, clutch, gearbox, cable-operated brakes, worm-gear steering, and various small parts. VW parts were a natural choice due to the early VW-Porsche relationship and because of VW's key role in the post-war rebuilding effort after British military officers brought VW's Wolfsburg factory back online in 1945 to fulfill car demand and to stimulate the nation's economy.

The basic Volkswagen air-cooled, 1.31-liter flat-four engine put out just 25 horsepower at 3,300 rpm, so the skilled Porsche team enlarged the bore from 70 to 75 mm, increased compression from 5.8:1 to 7.0:1, and added slightly larger inlet valves and ports and twin carburetors, boosting output to between 35 and 40 horsepower.

The engine and transaxle were fitted into the frame in such a way that the engine ended up positioned in front of the rear axles with the transaxle trailing behind, making this a true mid-engine design. Mated to a four-speed gearbox, the drivetrain proved to be both lightweight and reliable.

Erwin Komenda, who along with Ferry Porsche and Karl Rabe formed the foundation of the fledgling car company, penned an aerodynamic and easy-to-build open roadster design. Friedrich Weber from Gmünd, one of just three of the company's body artisans, formed each of the car's aluminum body panels by hand, beating the then rare sheet metal and massaging it into shape over the wooden body buck Komenda had designed. The result was as shapely and beautiful as it was functional, with minimal protrusions to upset the aerodynamics or its visually graceful lines.

As with every Porsche since, form followed function on Porsche No. 1. The interior featured a bench seat to accommodate a third passenger if needed, a simple dash with only a tachometer (a speedometer was added later), a locking glove box, and map pockets on the leather door panels. An ample luggage compartment and the fuel tank were placed under the front hood, and the mid-engine layout provided space for a spare wheel and tire and battery behind the engine and above the transaxle. Finally, a frameless and low twin-panel front windscreen provided wind protection while accenting the sports car's gentile lines.

The unique roadster weighed merely 1,290 pounds, and thanks to the modified engine it could reach a top speed of between 84 and 87 mph. In May 1948, Ferry Porsche himself set off on the first long road test, driving from Gmünd to Zell am See, Austria. During the rigorous test drive over some of Europe's most spectacular climbs, the rear torsion bar suspension failed but was repaired en route. Through this car's entire test period, this proved to be the only mechanical failure.

Journalists tested the car on July 4, 1948, and Robert Braunscheweig, editor of Switzerland's highly respected Automobil Revue, concluded, "This is how we imagine modern road motoring to be, where the advantages of modern springing and the resultant driving comfort are combined with the adhesion of an equally modern, low and handy sports car." On July 11, with Herbert Kaes at the wheel, Porsche No. 1 won its class in the Rund um den Hofgarten local race in Innsbruck, Austria. Just as today, testing and competition proved to be solid underpinnings for the company's commercial and motorsports success.

Soon after, Porsche ramped up production of the 356 sports car at the company's tiny factory in Gmünd, abandoning the complex steel tube frame in favor of a stamped floor pan. The engine also was repositioned behind the axles to provide more interior space and room for a rear seat. Not too much later Porsche moved its production operations in 1950 to its current home in Stuttgart-Zuffenhausen.

After passing through the hands of several owners, Porsche No. 1 was reacquired by Porsche AG and became a centerpiece in the Porsche museum. As Porsche nears completion of its new museum alongside the Porsche factory in Stuttgart-Zuffenhausen, Porsche No. 1 will be prominently displayed in a way befitting the historic car that shaped all future Porsche vehicles.

Porsche Cars North America, Inc. (PCNA), based in Atlanta, Ga., and, Porsche Cars Canada, Ltd. (PCC) in Mississauga, Ontario, are the two separate importers of Porsche sports cars and Cayenne® sport utility vehicles for the United States and Canada respectively. They are each wholly owned, indirect subsidiaries of Dr. Ing. h.c. F. Porsche AG. These two subsidiaries combined, PCNA and PCC employ approximately 250 people who provide Porsche vehicles, parts, service, marketing and training for its 200 U.S. and 12 Canadian dealers. They, in turn, provide Porsche owners with best-in-class service.
[Source & Images: Press.Porsche.com]