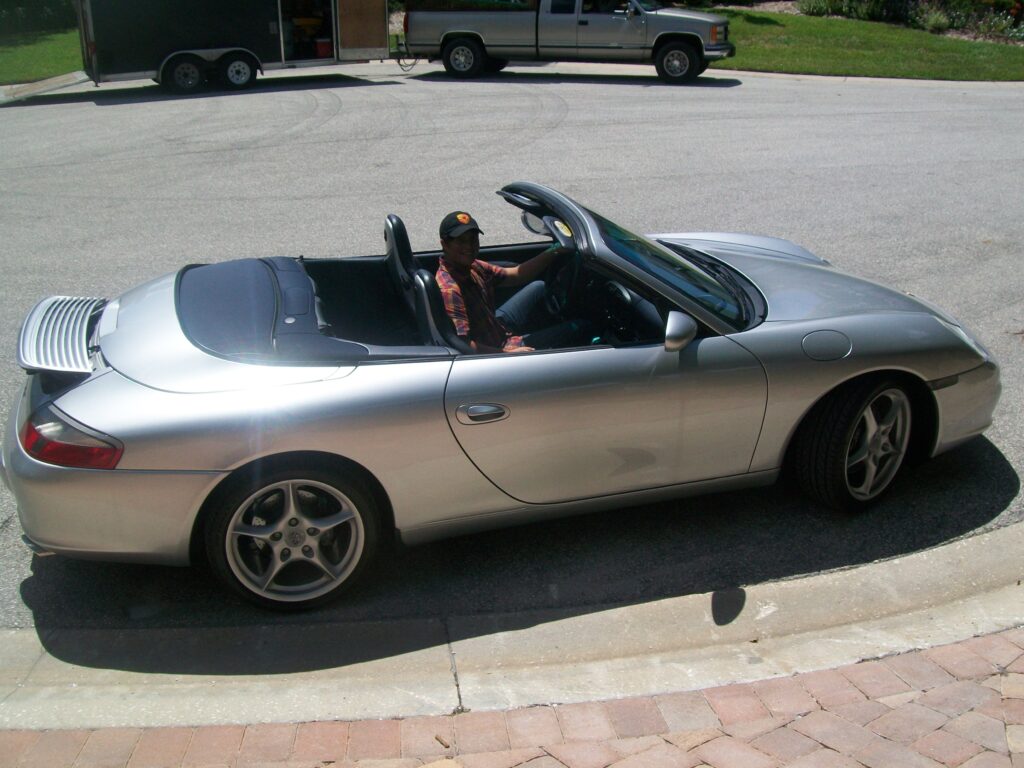 I'm always on the lookout for good Porsche stories. Some of them can be pretty inspiring and it's cool to see what kind of memories are built around the brand we love.
Nick, one of our younger PorschePerfect.com readers, has been emailing me about a trip he planned to take to see his grandfather and the hope to drive a Porsche for the first time. He's only 15, and his dream has come true. Funny enough, that's the age I was when I drove my first Porsche (you can read about it here: My First Time).
Above is a picture of Nick in his grandfather's 2004 Porsche 911 Cabriolet. Here's Nick's quick rundown of his first drive:
This summer, my dream of driving a Porsche came true when my grandpa (a Porsche enthusiast) bought an '04 Carrera Cabriolet. It has Sport Bucket Seats, Tiptronic w/Paddle Shifters, and leather everywhere.

My grandpa never once hinted he would let me drive it, but on the last day of my vacation, he asked me if I wanted to… I said no…ya right! How many 15 years olds who aren't even legal to drive, can say they've driven a Porsche? Well now I can!

The seats were snug and hot in the Florida heat, the newly put on top went down in seconds, and even though there was no chance in hell I'd go over 70 MPH, I put the spoiler up. The suspension was perfect! Softer than the 997 I had ridden in a couple months before, and it felt harder then the 944 my dad had for a weekend last year.

Driving as a passenger going 125+ on the freeway in a 997 was the best Porsche-related experience I ever had…until I eased my foot on the accelerator for a Sunday drive in a Porsche.
Thanks for sending this over Nick!