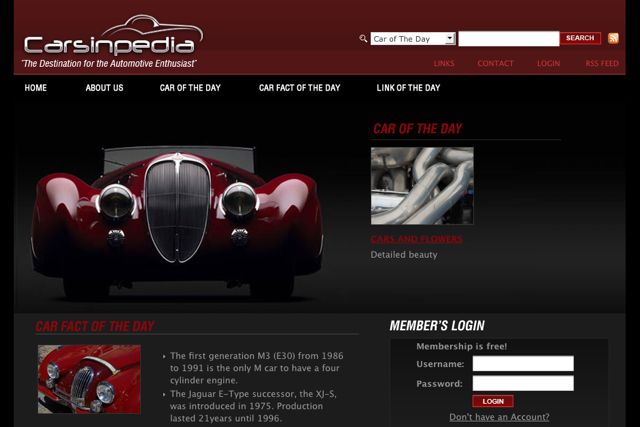 I was recently put in touch with the owner of a fellow car fanatic's web site through a mutual friend. He wanted to feature PorschePerfect.com on his site as a Link of the Day. I get lots of "link up" requests, most of them crap, but this one turned out to be different.
The site, CarsInPedia.com, is an automotive enthusiast's site that covers many different cars, facts and photos through it's various sections. Dwight, the owner, gave me this synopsis:
Perhaps the best way to describe carsinpedia.com is to say that it offers an eclectic perspective on the automotive world through our car of the day photo essay profiles. Also, the site is a great repository of automotive trivia and automotive websites which all been personally reviewed before making to to the site.
From the moment you hit the home page, you know this is a site run by someone passionate about all different types of cars. I have no idea what kind of car is featured on the page, but it captured my attention for the better part of 5 minutes before I finally clicked on a link to look around the site. I want to think it's an old Jaguar, but someone will have to tell for sure.
CarsInPedia.com has several features such as a Car of the Day, Car Fact of the Day and Link of the Day. PorschePerfect.com was featured in May as a Link of the Day. Each section offers a number of different car facts, cool pictures and interesting stories. I headed straight to the German category (on the right hand side of the page) and happened on an article about a 1983 Porsche 930 (911 Turbo). There are some gorgeous pictures of the car and some pictures of what have to be the ugliest olive green interior I've EVER seen on a Porsche. I had to swipe one to show you: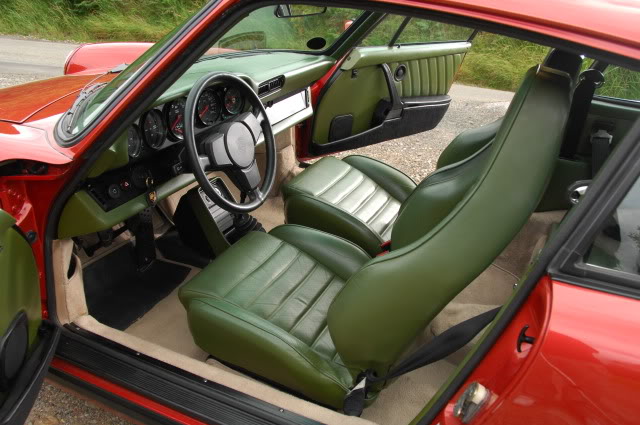 This particular car was special ordered by Swiss Le Mans race car driver, Francois Trisconi. Not sure what he was thinking with that interior. You can read the entire article here: 1983 Porsche 930 Turbo.
There is plenty to look at and take in at CarsInPedia.com, so take a look when you have a minute. Also, sign up to receive site updates while you're there. The site is not updated every day, so it's a handy way to get updates by email when they're added.