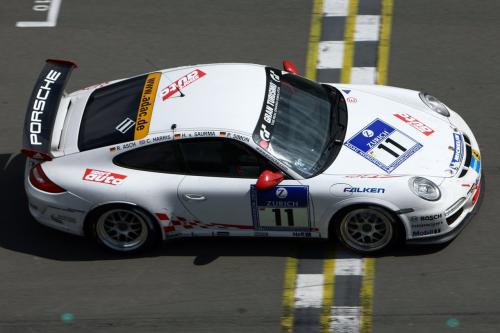 Lyndon, one of our PorschePerfect.com readers, sent me a link to a post that I found particularly cool. Among all of the crazy expensive race rides competing at big races like the Nürburgring, one Porsche team took a different approach. Most of the cars are trailered to events, extensively pampered before and after races, and are generally treated better than most of the patrons that attend the events. And why not? They're crazy expensive not to mention central to the entire point of the event.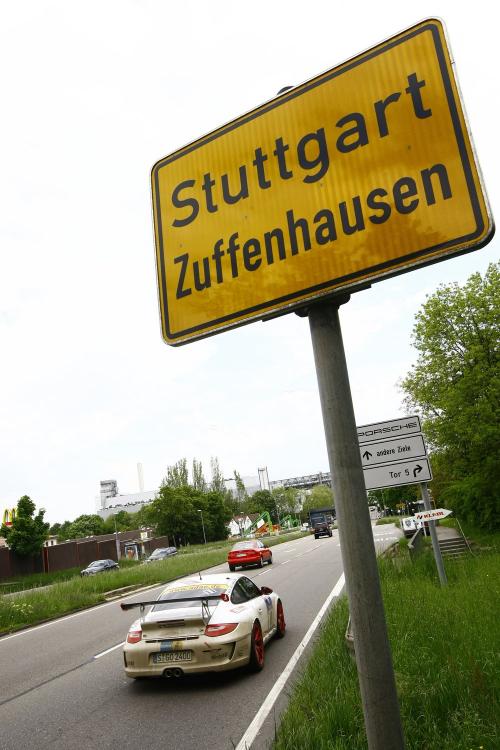 One of the 911 GT3 RS teams fielded by Porsche changed things up a bit this year. They drove a street-legal Porsche 911 GT3 RS to the Nürburgring from Weissach and finished 13th in the race. This is pretty amazing, again given the competitors and brutality of the race this car was fielded in. It's a testament to how amazing the cars are that any old customer can buy off the local showroom floor (in theory at least).
One of the drivers, Roland Asch from Germany, had this to say about their 145 laps that were free from technical mishaps:
"Never in my wildest dreams did I think a normal street car could not only keep up at such a demanding race but can also finish so far up the field. After this race there is no doubt the Porsche 911 GT3 RS is the best sports car in the world!"
Gotta love Porsche!
Now I know only the rare few will ever have the means, desire or access to a track destined Porsche like a 911 GT3 RS, but the whole idea behind an undertaking like this is what's so amazing. What would be an even cooler (although unrealistic) test would be to take a stock 911 or 911 Turbo and put it into a race like the Nürburgring with expert drivers at the wheel. See how it could fare with only minor adjustments like racing wheels, tires, etc.
I love these underdog type stories though. Reminds me of the guy who bought the $500 car off Craigslist and took 3rd in the Mexico round of the World Rally Championship besting $400k+ rally cars. Kind of feels like Asch and the other drivers won a round for the common folk like us!
[Source Press.Porsche.com]