A few weeks ago instaVIN contacted me about their new instant vehicle history access service. Sounded like CARFAX to me, but I figured I'd have a look anyway. After checking out the site, I have to say, I was impressed. instaVIN offers several valuable services that will help any of us when looking for that next used Porsche (or any used car for that matter).
Similar to CARFAX, instaVIN offers Vehicle History Reports detailing known information about any used vehicle, most notably the accident history. This is critical information, of course, when deciding whether to purchase a vehicle and how this history might impact the value of the car. What sets instaVIN apart from CARFAX, though, is the ability to get this data not only thru their web site, but also via your cell phone.
Once you create an account on the instaVIN.com site, you can link your cell phone up to your account and enable vehicle reports via text messaging. This has the potential of being VERY cool when you're in front of a car, but didn't pull the vehicle history report to bring with you. An auction or last minute stop on a dealer's lot would probably serve as the handiest locations for this feature. The tech geek in me loves the ability to use my phone for something like this though.
The Accident History Reports are only $1.99 for the first report and $2.99 for each additional report. That's really cheap, especially considering how much a covered up accident could cost you in future repairs.
The instaVIN folks were nice enough to send me a code to try the system out and it functioned exactly as I expected. The online report I ran on a 2007 Porsche 911 Turbo (997) came up clean and the price valuator showed the price was in line with what the seller on Craigslist was asking for the car. Here's a sample of what the online report looks like: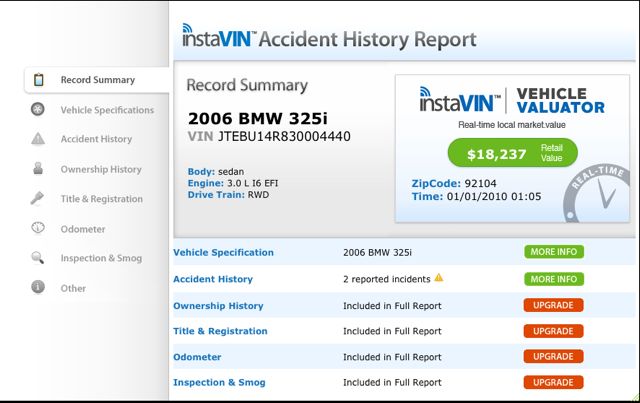 I decided to try getting an accident report from my phone for the second report. After connecting my phone to my account, all I had to do was text the VIN number to INSTA and within seconds I had a response showing no accident history and base values of the car. This particular car I found on eBay and showed no accident history, but did have a title issue reported in the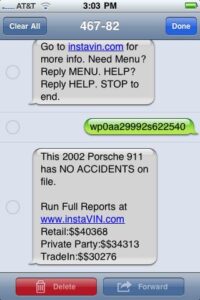 auction. Although title problems can oftentimes be sorted out more easily than vehicle damage from an accident, it'd be worth it to pay for a more expanded report on a vehicle you're interested in buying. To the right is a screen shot of what was sent to my iPhone.
In looking around the site, I found 2 other tools instaVIN offers on their site that are kind of cool:
Vehicle Valuator – A tool that will give you values of the vehicle you're looking for or trying to sell based on the local market. You plug in some basic things like Year, Make, Model and Zip Code and the tool will show you how many vehicles it knows about in your area matching your criteria and what the range of values are. This tool is free.
Sale Documentation & Bill of Sale – This is a service/tool that comes into play when buying a selling a used vehicle. With step-by-step instructions, buyers and sellers can easily navigate through a properly recorded vehicle transaction. Once a buyer and seller have committed to the deal using the Pre-Sale Agreement and deposit slip provided with the service, they can then certify the sale with a comprehensive sales agreement including 'sold as is' and warranty clauses.  As a final step, instaVIN provides immediate access to a state specific Bill of Sale for all fifty states. Each step allows both parties to formally agree on all aspects of the sale without any hidden costs. This is well worth the $15.99 cost of the service to ensure you do the deal right.
All in all, the instaVIN service looks very promising and I love the pricing. It's cheap and gets you the basic information in the Vehicle Accident Reports. Definitely a service worth checking out next time you're in the market for a used Porsche. You can view the site here: instaVIN.com.
For anyone interested in using the service, instaVIN sent me 5 codes that will get you 2 reports for free. If you're in the market for a used Porsche or other vehicle and want to try the service out, shoot me an email via the contact form and I'll hook the first 5 people up with a code for the 2 free reports.