Alan, a reader here at PorschePerfect.com, submitted a comment to a post I made quite a while ago titled Ugly Porsche: 359. Here's what he had to say:
Got one of these myself (but red),, and just have a ton of fun with it. I get nothing but positive comments, at shows, stoplights and many photo op's at gas stations. It is a great sunny day car, and I love to cruise the beaches and country roads. The styling is pretty unique for mid-80's, and a flattering of the legendary 959. Kits like this allow for basic and affordable motorsports experience. I am always planning some way to modify or improve it. So, I am pretty happy with it, overall. OH,, and pretty girl's dig it too,,,, so what am I missing ???
If the dude is picking up pretty girls driving around in a Porsche 359, maybe we should be rethinking the whole thing. Not that the sole reason for a Porsche is to pick up babes (or hot guys for you ladies). I'm a happily married man after all. But you get what I'm saying.
Anyway, I suggested to Alan that he send in a pic of his car and a little write up about it. He said he was game (thanks for sending this in Alan!), so I present to you a Porsche 359 from the eyes of a proud owner.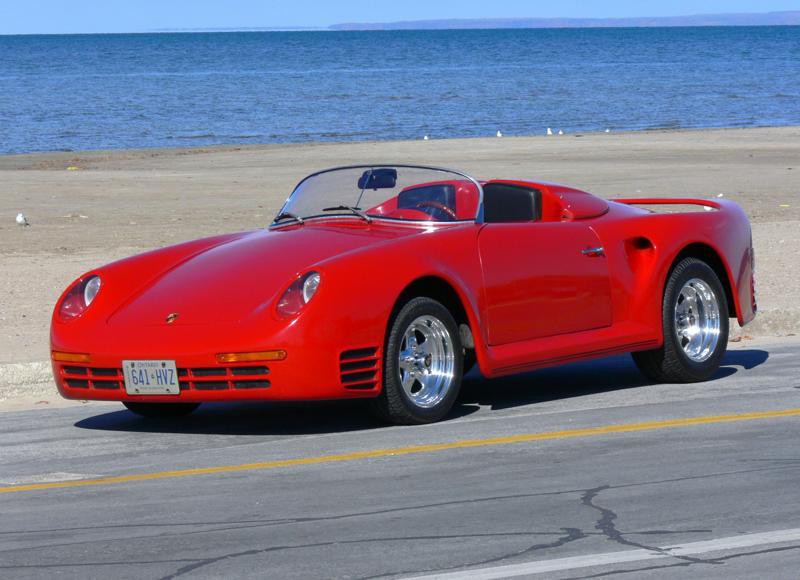 So this is my summer ride, kind of an ongoing hobby on wheels. It is a mid-80's CMC 359, built up on a '75 VW IRS pan. Without going into all the details, I imagine that it provides the same basic motoring experiences as a 356, but without an original's quarter million+ dollar price tag. I have made many mod's, including lowering the car since this photo was taken. Something unique was to fabricate a fan-forced cool air induction from the side intakes to both the oil cooler and engine fan. Be careful not to wear baggy shorts when standing next to it !!
I know my car might enrage some Porsche purists, but everything about my ride was either designed by, or inspired by, Dr. Porsche and his fine company. I really believe that Porsche is as much an approach, a feeling and an experience, as it is a premium brand. And, I would like to think that Dr. Porsche would have liked that idea.