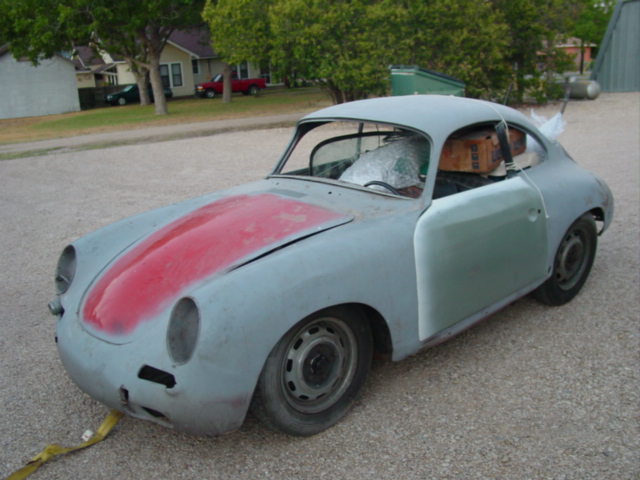 I got an email recently from Shane, one of our PorschePerfect.com readers. He mentioned he had recently purchased a Porsche 356 and set out to build an Outlaw 356. He had me at Porsche 356, but I dropped everything when I read Outlaw 356!
Ever since discovering Outlaw 356s earlier this year, I've been in love with the idea. In fact, it was love at first site. You can read my original post here: "Outlaw" Porsche 356: The Ultimate Tough Customer. That's by far one of my favorite posts on the blog from the last year and I still find myself looking at the pictures of the cars I show in the post.
If you're not familiar with the 356 Outlaw, here's a thread on TheSamba.com that sums it up nicely:
DT: Just what is a outlaw 356? what makes it a outlaw?

MP: Bigger/modified engine
lowered/modified suspension
typically non stock paint color
typically non stock wheels
typically non stock interior
sometimes deleted bumpers, possibly nerf bars

I always think of a 356 hotrod…

GL: Usually not a stock or "period performance", but all out performance.

DT: so just about anything that the good Doctor didn't put on or take off when they were built makes them an outlaw.[Via TheSamba.com]
There's just something that draws me to the old meets new style of the Porsche Outlaw.
Now for Shane's story, it's not your typical Porsche enthusiast tale. It starts off common enough:
Ever since I can remember it has always been a small childhood dream of mine to own a Porsche. Was it the 911 cars flying by me on Pacific Coast Highway years ago in Southern California that first peaked my interest, I am not sure? All I know is that I always thought my first Porsche would be the 911 model. After doing some research into the history of the Porsche brand, it became evident to me that the father of the 911, the 356 was definitely for me. Anyone can go purchase a modern Porsche, but a classic 356 is another story. The history, legacy and racing heritage surrounding these early vehicles is inspiring.
That's where the common nature of the store ends. Check this out:
I also wanted to share with you that I have never driven in a Porsche 356 let alone driven one. It is a dream come true for me and to find a car in Connecticut and have it transported to the able hands of Bill Hamilton in Texas for a year long build, I just cannot tell you how fortunate I am and how cool of an experience this is.
How crazy is that?! Most of us drool over plenty of Porsches prior to buying one, whether it's our first or not. I think it's awesome that Shane is undertaking this project with so little past experience with the Porsche 356. I could easily follow in his footsteps!
Here's a little more info on the project being headed up by Bill Hamilton of Hamilton Classics:
We are building a 356 Outlaw, if you note the bodywork, the bumper holes have been sealed and the rear exhaust holes also been closed up for the Quad Stebro Exhaust to exit out the back.  The outlaw look speaks to me more than a concourse stock build so that is the way we are going, going to be very cool and a complete restoration all the way down to the last nut and bolt.
This is a great project and I'm hoping Shane will share the progress over the next few months as it gets closer to completion later in 2010.
Check out Shane's page dedicated to the restoration project for the latest news, tons of pictures and more of what he went through in choosing a car: Shane's Outlaw Restoration Project.