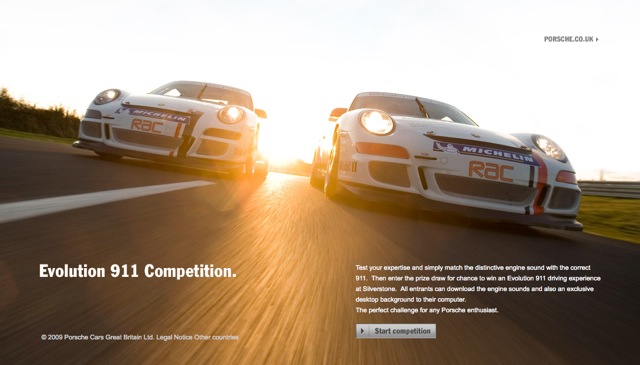 Porsche has put up a little contest for those living in the U.K. To enter, you have to listen to the exhaust sound from 5 different Porsche models spanning a number of years, then select the correct model out of the 3 listed for that sound. Once you determine your guesses, you can enter into a drawing for an Evolution 911 driving experience at the Porsche Experience Centre at Silverstone.
I've mentioned in the past that I really haven't paid that much attention to exhaust notes until recently. This is a pretty cool little test of your exhaust prowess.
If you're curious about the Porsche Experience Centre, check out this video:
If anyone from the U.K. is reading this blog, you need to head over to Porsche.com and enter to win the Porsche Evoluation contest. The rest of us will have to settle for the enjoyment of testing our Porsche "ears".
Check it out here: Porsche Evolution 911 Competition.
[Source: Porsche.com]