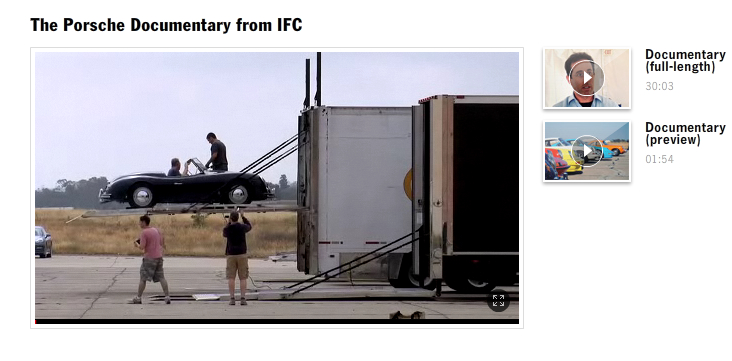 This video was linked to from a recent Porsche Club of America newsletter. Usually the word "documentary" is a solid signal that I should avoid whatever it's attached to, however, there is one exception. That's when it's connected to Porsche in some way, shape or form.
I clicked on the link to the video on a whim and ended up with 30 minutes of pure Porsche pleasure. The video is loosely based on the filming of the Porsche Family Tree commercial, but more from the angle of the people who contributed cars to the video as well as drove for the filming.
Stories of several Porsche enthusiasts were highlighted along with some of the cars they own. Probably the most notable collector in the video was Jerry Seinfeld. They had him on camera talking about his cars and what drives some of passion for Porsche. Also profiled were a father and daughter who love doing track events (I'd love it if my daughter would get into driving like that!), the broker who has helped Seinfeld locate much of his Porsche collection, and a retired pharmacist who bought a 356 brand new and has kept it ever since.
I really got into the video and loved seeing all of the cars. Plus it's always cool to hear other people's Porsche stories and how similar they are to yours all too many times. This video is definitely one worth watching. Plus…NO commercials!
Check it out here: Porsche Documentary.
[Source: PCNA]