I've mentioned this before, but rumors continue to circulate about the possibility of a reborn 356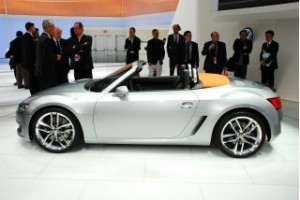 coming from the depths of Porsche's Design department. Course for every one rumor of a 356-like car, there's two saying the new sub-Boxster is going to be a 914-style ride.
Motorauthority.com had an interesting blog post detailing more reasons why Porsche should, and very well might, build a "new" 356 as it's entry level model in the Porsche lineup. They maintain the car could be built on Volkswagen's Bluesport Roadster (pictured to the right) which Porsche is rumored to have been in cahoots with VW in designing.
Another car site in the UK, Autocar, got ahold of artist renderings of a reborn 356. Here's what the artist came up with:
Autocar even goes so far as to speculate on power plants and other vehicle specifications:
Flat-four engine – 1900cc
Light-pressure turbo or supercharged options
Around 250 bhp
Mid-engine placement
Steel and aluminum platform
Shared sub-systems with the Audi R4
Shared transmission with the Audi R4
Will Porsche build a new 356? I doubt it. Is it a heck of a lot of fun to dream about? Of course! Regardless of what they end up churning out, I hope it has design ties with a previous classic model. It would be an awesome jumping off point and probably would catapult it to instant desirability. Course any Porsche should have that right off the bat…shouldn't it?
You can check out the post on Motorauthority.com here: Entry-Level Porsche Roadster Rumors Hint At Reborn 356. The post on Autocar.co.uk can be seen here: Porsche's new baby Boxster.