When Ryan and I discussed running this contest, we weren't sure what day was best, so we chose September 30 almost at random. As it turned out, I had a really busy day, so I was only going to be able to dedicate about 3 hours to my hunt.
To prepare for the hunt, I grabbed my $100 Canon Point & Shoot, dropped the top on the 1984 V-Dub (when stalking Porsches, I highly recommend vintage VW Rabbit convertibles), and I was ready to go. As an after-thought, I also grabbed my Canon DSLR, just in case I found something interesting. My game plan was simple: point & shoot, rip & run, never get out of the car – just keep hunting, and minimize the amount of missed cars. The clock was ticking, no time to waste.
First stop on my hunt was Southport, Connecticut. While I was on my way there, heading down I-95, I saw 3 Boxsters in the on-coming lane over the course of five minutes.
No pics, didn't happen.
I reached over and grabbed the point & shoot, and as I was turning it on a Ferrari (I think it was a 550) got on my bumper – I pulled into the middle lane, and he blew by. Just as I was about to move back into the left lane, I saw my first victim – a Carrera that was obviously in hot pursuit of the Ferrari. As he flew by, I got my first picture of the day.
Southport, Connecticut
Five minutes, four more cars. I thought I was off to a good start, but half an hour later, I hadn't seen another one. Time to go to Westport Connecticut, which is the next town over. On my way there I saw two more, but both times was saddled with that whole shift-clutch-steering-braking thing, so I missed them.
No pics, didn't happen.
Running Tally:
Porsches Photographed so far: 5
Porsches Seen But Not Photographed: 5
Westport, Connecticut
To all of you living in Westport, why the hell do you like Audi and BMW so much?
I spent the next half hour cruising around ridiculously crowded one-way streets, and I had NOTHING. Goose-Egg. Zip. Nada. Time to leave. No sooner had I made that decision when I saw the yellow Boxster, parked at the Brooks Brother's store. Of COURSE!
Westport yielded only one Porsche, but it was a great picture.
At this point, I had been on the hunt for a little over an hour, and I really wasn't getting the results I had hoped for. I decided it was time to break out the big guns, and headed to New Canaan, Connecticut. On my way there, a woman cut me off while talking on a cell phone…she was driving a Cayenne Turbo with some crazy aftermarket kit.
No pics, didn't happen.
So, lets tally up:
Porsches Photographed so far: 6
Porsches Seen But Not Photographed: 6
New Canaan, Connecticut
This is when things really turned around for me. Six Porsches in three minutes, including two 911's parked next to each other. But again, after driving around for five more minutes, I didn't see any more.
Then I discovered the Metro North Railroad Commuter Parking Lot.
Six Cayennes!
After that, I was striking out, and the clock was ticking. I had found twelve Porsches in New Canaan. I left town feeling satisfied, and headed to my final destination, my ace in the hole, my…nevermind, you get the idea. I was headed to Greenwich, Connecticut.
New Tally to this point:
Porsches Photographed so far: 18
Porsches Seen But Not Photographed: 6
Greenwich, Connecticut
This being the last stop on my hunt, I wasted no time wandering around. Instead, I went right to the main street with all the ritzy boutiques. After driving the length of just this one street – about 15 blocks long, I photographed SEVEN Porsches. At the end of that street was a parking lot, where I scored NINE more.
At this point, my point & shoot camera low-battery light kicked in, and I was pretty much out of time. On my way back to the highway, I spotted one last Porsche following me – I grabbed my DSLR, and took one Hail-Mary Picture of my rear view mirror.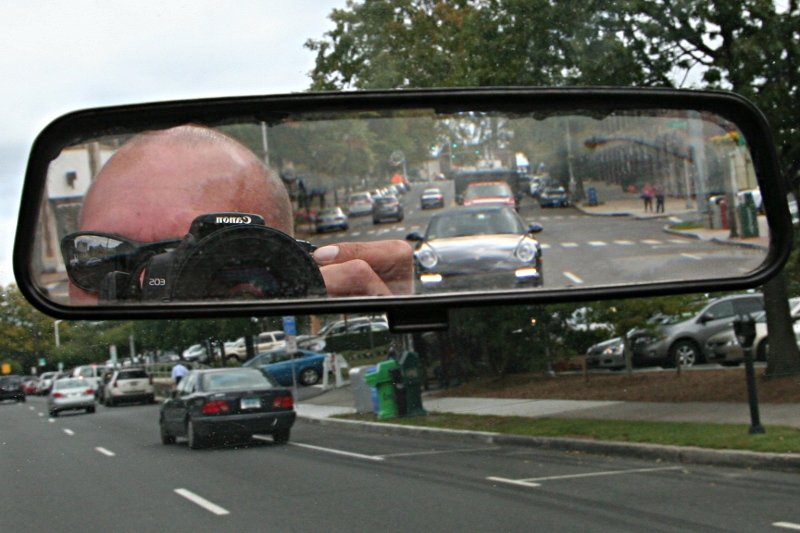 Final Tally:
Porsches Photographed: 35
Porsches Seen But Not Photographed: 8
Congratulations to the Lucky Winner, Andrea who guessed 32!
Just curious – anyone want to share what number they guessed?