I was emailed info about both of these Porsche mini-sites over the past few days and thought I'd make sure everyone knows about them. Maybe we should just make Fridays officially "Porsche Time Waster Fridays". Porsche typically does an excellent job with their model specific mini-sites representing a nice little "time waster" for Porsche fans of all shapes and sizes. For me, they always seem to draw me into the experience of the car they're representing and I walk away wanting whatever model I've been looking at.
Mission accomplished Porsche!
Porsche 911 GT3 RS Web Special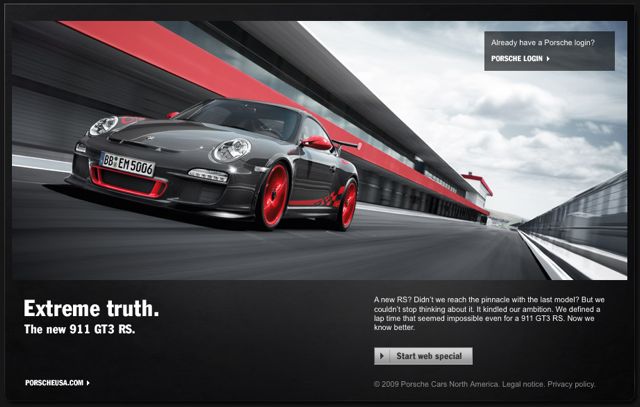 The first is a site highlighting the new Porsche 911 GT3 RS. I've always had mixed feelings about the RS models, but as I've gotten older, I think I've developed an appreciation for what the cars are made for. They're track cars in more of a pure form than probably any other production Porsche. With that appreciation has come a love for some of the scaled down nature of the RS models. I love things like the red pull straps for door handles, no back seats and other weight saving measures.
The Porsche 911 GT3 RS mini site is a great representation of the model. One thing you HAVE to check out is the Extreme Truth section (button in the bottom right corner of the site). I love the track footage and the snap shots throughout. Especially the last one!
Check out the site here: Porsche 911 GT3 RS Web Special.
Porsche 911 Turbo Web Special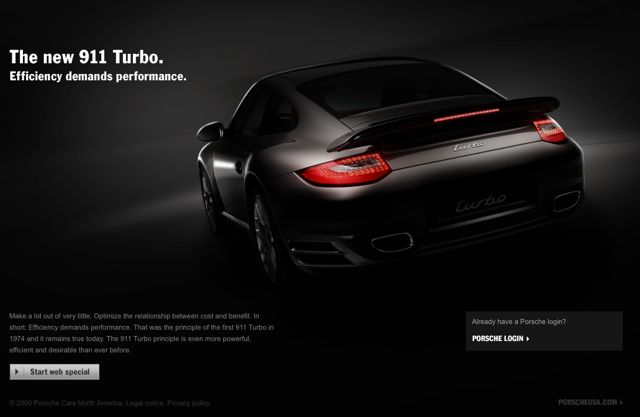 The second is a site dedicated to the new Porsche 911 Turbo. Although not quite as experience based as the GT3 RS site, in my opinion, the amount of information given in the videos is pretty extensive. I have to say, I was utterly captivated by the Transmission section of the Athleticism video. DEFINITELY worth watching, even if you only watch that middle segment.
All of the videos have some great info as well as great driving shots of a couple of Turbos. The site also has really nice images to whet your Turbo whistle. Make sure you check out the Efficiency section to see some of those images. The History page also has some great new vs. old photos.
One thing I'm very glad Porsche didn't have in their videos… They didn't show the driver queuing up any David Hasselhoff music on the stereo!
Check out the site here: Porsche 911 Turbo Web Special.