What does a Porschephile do when he/she has some time to burn? There's only 2 options really: 1. Head to YouTube for Porsche videos or 2. Go to Porsche.com. I hadn't been out to build my new Porsche Panamera yet, so I decided today was the day. You never know when you're going to come into a couple hundred grand you don't know what to do with, thus it's handy to have a car or two configured up at all times so the money doesn't have to burn a hole in your pocket for long.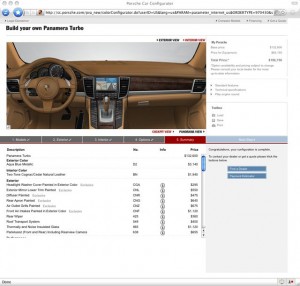 Today's build was a Porsche Panamera Turbo and I have to say, it's one sexy looking ride. Definitely different colors than I would normally select. My full list of accoutrements was way too long to show here, but here are some I was most excited about:
Aqua Blue Metallic Exterior Color ($3,140)
Two-Tone Cognac/Cedar Natural Leather Interior Color ($1,940)
Sport Exhaust System ($2,950)
Porsche Ceramic Composite Brake (PCCB) ($8,840)
20″ RS Spyder Design Wheels ($1,560)
Instrument Dials Guards Red ($860)
18-way Adaptive Sport Seats with Memory Package ($1,505)
8-way Power Seats (Rear, in Combination with Adaptive Sports Seats) ($1,835)
Burmester® High-End Surround Sound-System ($3,990)
Base price of my Panamera Turbo: $132,600. Price as equiped: $196,750. That's without choosing absolutely everything possible and no custom order/one off stuff. If you watched the video I recently posted, you probably caught that Porsche will customize the Panamera in just about any way you like, even to the point of taking a sample of your leather furniture to reproduce exactly what you sit your can on in the comfort of your own home.
The Panamera would be a great ride if you had a chauffer!
If you haven't gone to the Porsche site to build your own Panamera, head over there now. It's worth 15 minutes of your life to dream a bit. You can get there from here: Porsche Panamera Site.