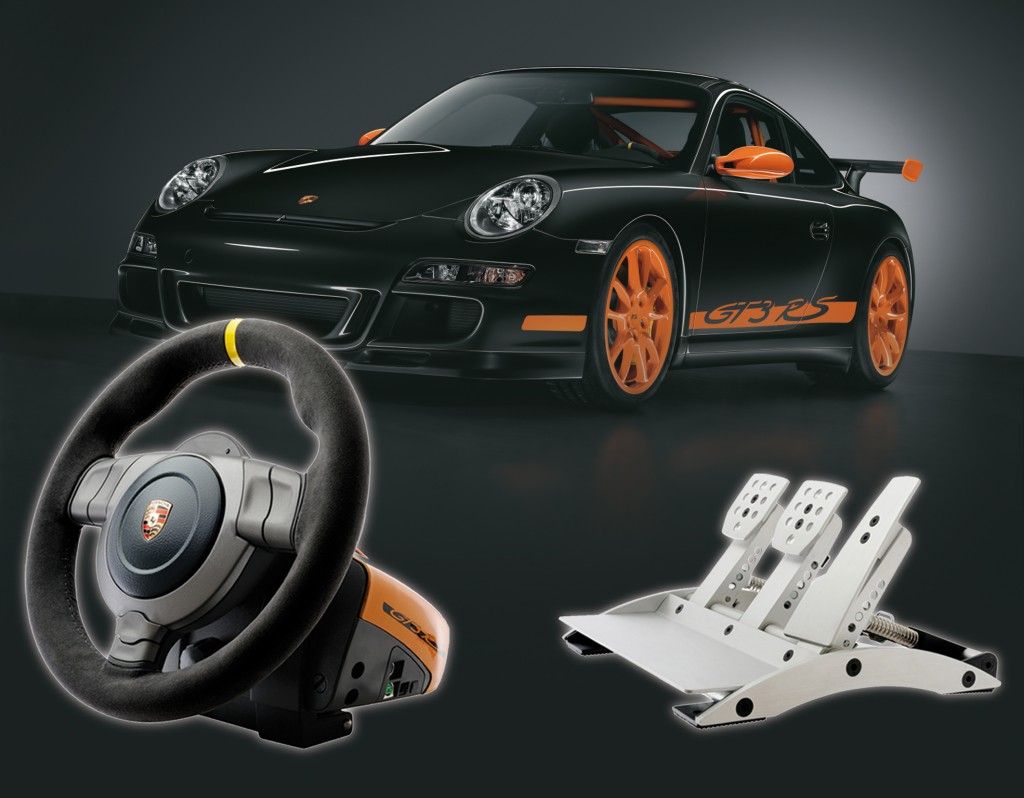 I would have to say, and I'm venturing to guess that pretty much everyone will agree with me, that the next best thing to actually DRIVING the Porsche of your dreams like a GT3 RS is driving a gaming version of the car. For me, though, one of the rubs of playing racing games is the wonky controllers you have to use that don't even come close to replicating the driving experience.
We need something more akin to what Guitar Hero has done with their controllers. One of my favorite gaming experiences to date is firing up Guitar Hero and playing "I Love Rock and Roll" cranked up through the Bose Lifestyle system. I swear, I feel like a rock star for three and a half minutes. "GOODNIGHT HOUSTON!!!"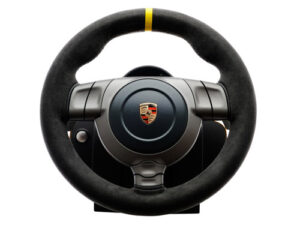 Well, for all you racing fans, Fanatec has done it once again. They've upped the ante with their new Fanatec Porsche 911 GT3 RS Wheel Clubsport Edition. This thing looks freakin awesome! So much so, that I'm trying to figure out how to convince my wife we need a Playstation 3 so I can start some "real" racin.
What makes this wheel and pedal setup so amazing? Get this. The wheel itself is covered with genuine Italian Alcantara leather. Just like the real GT3 RS wheel. What's more, the wheel features belt driven Force Feedback, a built-in display and clubsport pedal shifters. Reviews of the wheel mention that when you open the box, instead of smelling the usual plastic and electronics, this one actually smells like a new car!
The clubsport pedals included in the package are made from solid aluminum and offer brake vibration feedback to indicate locking-up tires as well as pressure sensitivity to better simulate brake force rather than simply pedal movement. The pedals are all adjustable in terms of height and distance to match your foot size and allow for the heel-toe technique.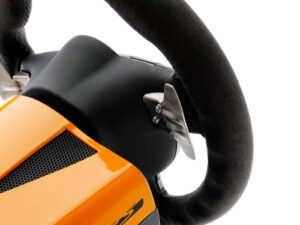 Bottom line this is one amazing setup. It's definitely raised the bar for consumer level setups. The next step up would be into the professional grade products that stretch up into the thousands of dollars.
I've always wanted to make sure my kids knew how to drive a stick shift. One of those life skills that always seems to come in handy at some point. Short of letting them drive the Porsche, or buying a manual transmission car, there really is not much opportunity for them to learn though. I've long thought though that a racing simulator could be a decent way to get the motion down without ruining a transmission. Hey! Maybe that's the angle on the PS3! "Honey, we need to buy the kids a new Playstation 3 so they can be better drivers."
Check out thePorsche 911 GT3 RS Wheel here: Porsche 911 GT3 RS Wheel – Clubsport edition.