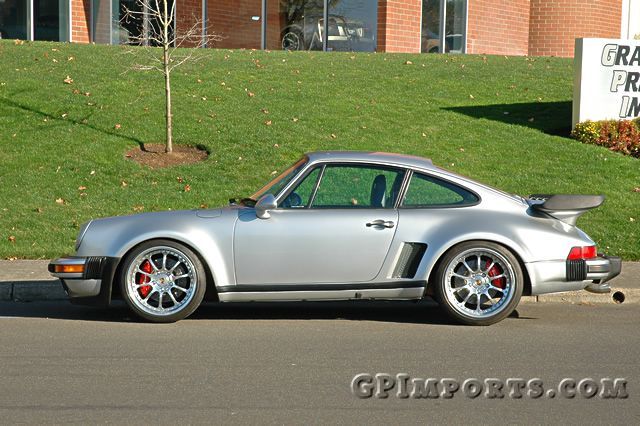 I just got back from picking up a car being worked on at Gran Prix Imports in Wilsonville, Oregon. By the way, if you don't know who these guys are, read this post: Dealership of the Century. While I was in there, I decided to take a quick walk through the showroom. "Why not?" I always say. Might not have been such a good idea this time around.
Amongst all of the Ferraris, Lamborghinis, Lotuses and assorted Porsches, they had a 1986 911 Turbo Look in a cool silver with chrome wheels. The car was stinkin gorgeous. I'd actually seen it in the window the night before when my kids and I drove by for a quick look. I've always wanted a 911 Turbo, and this is the next best thing, even better in some ways, given that you don't have the expense and maintenance of the Turbo (see how I'm already starting to justify it in my mind?).
As I was settling up for the car I was picking up from the service department, I made some comment about the 911 Turbo Look to the General Manager, Erik. Next thing I know, he's pulled it off the showroom floor and around front. I walk out to take a look and after a few minutes he scoots me into the car along with my son and sends us off on a test drive.
I have to say, there really is nothing like the 80's and early 90's air cooled 911's. Everything from the updated, but older interior to the floor mounted pedals requiring you to get used to that "over-the-top" feeling when you press them. The classic external styling with those nice big bulging lights, and the big flared fenders and whale tail of the Turbo styling.
Driving this car instantly transported me back to being a teenager and reminded me of everything I loved about Porsche growing up. It's kind of revealed to me what my next Porsche needs to be. And this particular car was a blast without being way over the top. I loved not having traction control, but still had a hard time kicking the huge tires on the rear end loose. The brakes were unlike anything I've ever experienced in a Porsche.
Needless to say, it was lust at first site and love at first drive. I'm going home to lie down.
Here are a few more pics and some more details if you're interested.
This is an exceptional and completely finished resto-rod 1986 Porsche 911 Wide Body Coupe.The gentleman who had it built spared no expense with this beautiful near vintage vehicle.

First the body was taken down to bare metal and factory steel wide body fenders were grafted on front and back and a factory turbo whale tail installed. The complete car was repainted metallic silver. The engine and drive train was removed and completely serviced, detailed and reinstalled. It runs beautifully and does not drip any fluid. The suspension was rebuilt and updated with new components giving the car a new lower ride height and a track oriented set up. The brakes were replaced with the largest modern Brembo rotors and calipers that could be fitted to this car. Then it needed a new set of Kinesis 3 piece wheels that would fit around the brakes and perfectly fill up the new larger fenders with aggressive sticky tires. The interior has been redone as well with white faced gages, factory sport seats and a new steering wheel. Check out the photos, this is one of the coolest 1986 Porsche we have ever had the pleasure to drive.This car could not be reproduced for anywhere near the asking price.
Check the car out at Gran Prix Auto's site: GPImports.com