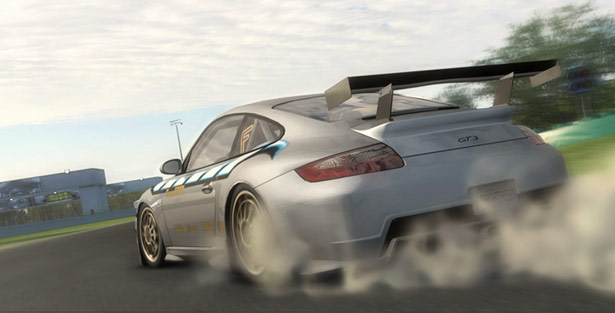 I've always been a Need for Speed fan. It's one of the few ways to "go fast" safely and without fear of getting sniffed out by a smokey. Throw the image up on a big screen or get really close to your monitor, and it feels like you're in the game.
I keep telling my wife I'm going to buy a decent steering wheel/pedal setup for the xBox 360 along with a manual shift setup to teach the kids the idea of driving a manual transmission. Maybe that's just a sorry excuse to buy a video game accessory and play more often. It certainly sounds good though.
I was looking for something on the Porsche.com site today and ran across Need for Speed ProStreet. Looks like it's been out for a while, and I was surprised I hadn't seen it before. As it turns out, my son bought the game a few months ago! Looks like we have some father-son bonding time in our future.
They make a version for XBOX 360, PS3, PS2, Wii, PC, PSP and DS. The cool thing is, since the game is a bit on the older side, you should be able to pick it up for under $20. Amazon has it for $19.99 with free shipping here: Need for Speed ProStreet.
Once you fire up the game, you'll need to download the Energizer Lithium Extender Pack to get the Porsche Leipzig Test Track. The Porsche GT3 RS and Carrara GT will cost you a few bucks to get (I paid about $6.25, but got a bunch of cars including the 2 Porsches). Well worth the money though.