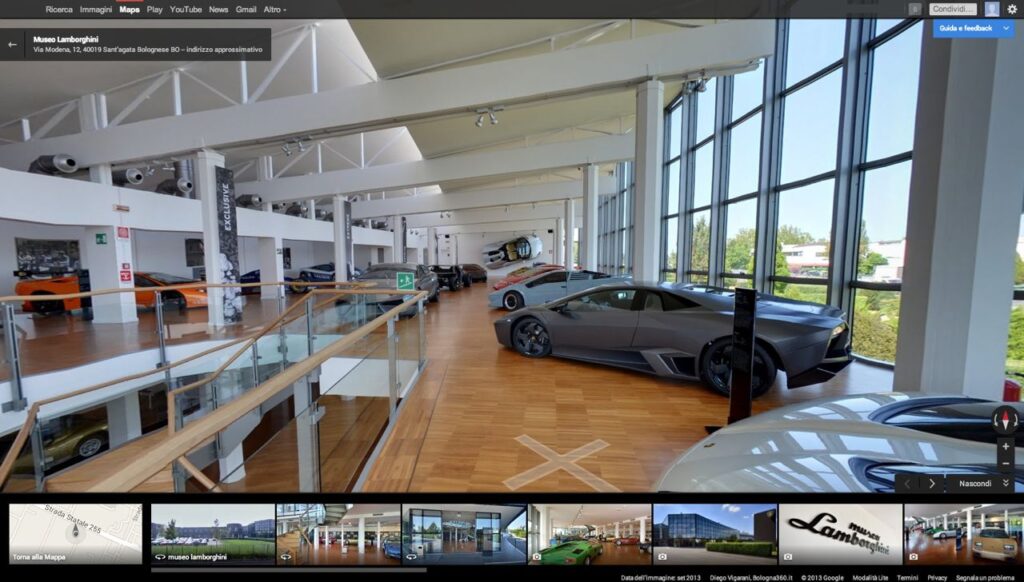 I was on the Lamborghini press site today looking around for information on the newly announced Lamborghini Veneno Roadster (check out this Autoweek post for pictures and minimal info on the new King of Roadsters: Lamborghini Veneno Roadster), and happened on a press release I'd overlooked. About a week ago, Lamborghini announced an exclusive museum indoor tour using Google Maps technology.
Here's the meat of the press release:
Automobili Lamborghini has become the first Italian company in the luxury automotive industry to launch an indoor view of its exclusive museum. This innovative feature derived from Google's street view technology allows visitors to navigate through the two-story structure located in Sant'Agata Bolognese and explore the exotic collection of classic and modern super sports cars.

Thanks to this advanced technology, web users from across the globe can now experience a 360° panoramic view of Lamborghini's select assortment of iconic supercars which have been a symbol of Made in Italy since 1963. Spread across two floors covering 1.500 square meters, the museum's collection includes a selection of world famed production series such as the Miura, Countach, Diablo and Murciélago accompanied by extraordinary prototypes, limited editions, one-off models, racing cars and marine engines. Unique scale models of original styling taken from Lamborghini's Centro Stile can also be found on display along with some of the legendary V12 powertrains.

The virtual experience includes a distinct feature which allows visitors to access an interior view of a select few models and offers the rare opportunity to see the Reventòn -limited series of only 20 units- Estoque and Sesto Elemento which are exclusive to Lamborghini's museum.

The virtual tour of Lamborghini's museum is available on PC, tablet and mobile via Browser and the Google Map App. The App software is supported by both iOS and Android operating systems.
When I visited the Google Maps page (here's where I went first: Lamborghini Museum), I thought it was just a bunch of pictures you could play in a slideshow. Great pictures, and I enjoyed flipping through them a couple of times, but nothing different than we've seen from most car manufacturers.
After looking through the Google+ page, and reading the comments, I decided I was missing something. That's when I found it, and man o man is it cool! Here's the link to the actually Google Maps based version: Lamborghini Museum Inside Look. It will load up the Italian version, but your browser should offer you a translate option.
You can move through the two floors of the Lamborghini Museum using your mouse or keyboard. Personally I found the arrow keys to be the easiest to use. To move up or down the stairs, just move over in front of the stairs and hit the forward arrow.
I know it's not the same as the real thing, but this is pretty dang cool. I blew it up full screen on one of my 27″ monitors and keep going back to move around the museum, look at the cars, and look outside.
Thanks Lamborghini and Google!
[Source & Image: Lamborghini Press]