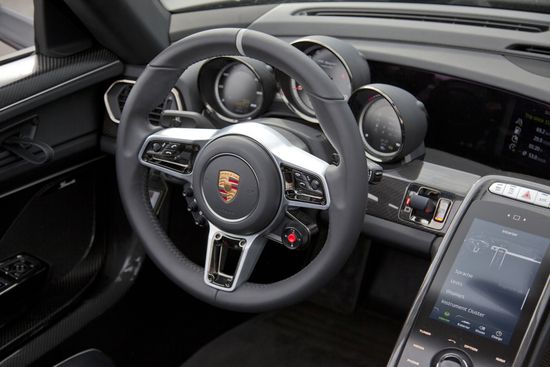 I've mentioned before that it feels like we're reliving the 80's all over again with the release of the Porsche 918 Spyder. I love the technology Porsche has developed and can't wait to see how quickly it trickles down to it's other models. We have already seen the 918's rear-wheel steering make its way into the Porsche 911 GT3.
One feature I'm particular excited about is Porsche's use of HTML5, the same coding language used for web sites, in the 918 Spyder's dashboard interface. According to AutoBild.de, a German car news site, Porsche sees a number of advantages to using HTML5 including the speed of multimedia development. This stands to significantly reduce the amount of time required to program new interfaces and make adjustments over previous processes used for displaying content on dashboard screens.
Other obvious benefits include the easy integration with smartphone apps and connection to the Internet when mobile web surfing becomes even more prevalent.
Being a techie, I love stuff like this. As other manufacturers follow suit, we're going to start seeing huge advances in dashboard displays, and ultimately unique content displays as customizations start becoming available. Pretty exciting!
[Source: AutoBild.de; Image: Porsche]