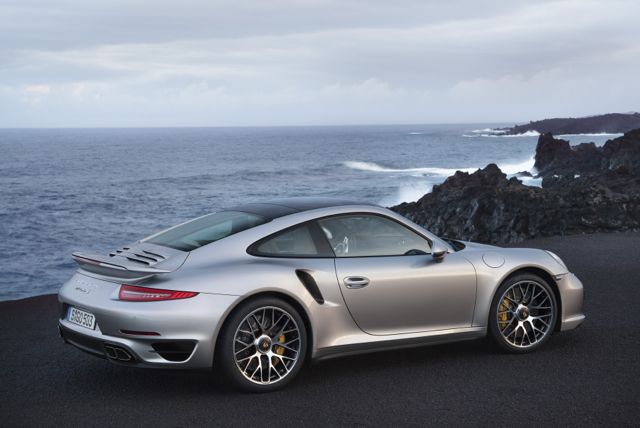 We happened to be sitting outside at a little restaurant in Portland yesterday and spotted a gorgeous Porsche 911 Turbo swing by on the street. Looked and sounded great, even though it was just low speeds and it was making a turn. Reminded me of a post I saw last week on 9Magazine.com (VIDEO: New 911 Turbo S Spotted On The Streets). Of course I have to add this to AutobahnBound.com given my extreme love of the Porsche 911 Turbo and especially the S model.
For those not up on the goodness that Porsche has in store for us in the form of the 2014 Porsche 911 Turbo S, here's a quick rundown of the highlights:
New all-wheel-drive system (PTM)

Active rear steering
Adaptive aerodynamics
Full LED headlights
560 hp twin turbo charged flat six
PDCC (Porsche Dynamic Chassis Control) active anti-roll system
PCCB (Porsche Carbon Ceramic Composite Brakes)
Widest body of the Porsche 911 line-up (1.1″ wider than the 911 Carrera 4S)
0 to 60 mph in 2.9 seconds!
Lap time on the Nürburgring's North Loop comes in under 7 minutes and 30 seconds on standard production tires
This is looking like it's going to be one heck of a sweet car!
One enterprising person with some extra time on his hands grabbed some great footage of this new ride on the streets in Germany. I like how they pause the video in various spots to focus in on some of the exterior changes:
Here are a couple more of the press pictures: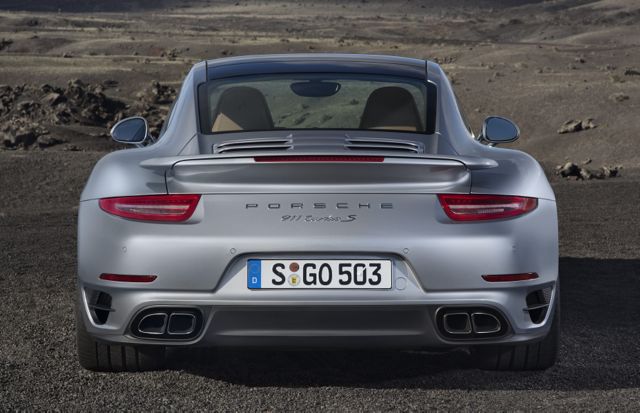 [Source & Images: Press.Porsche.com]