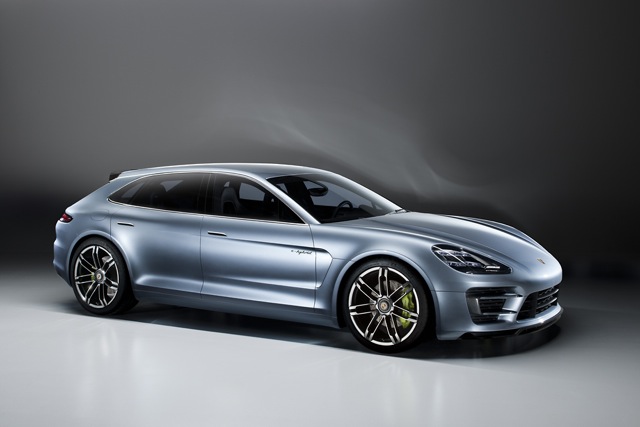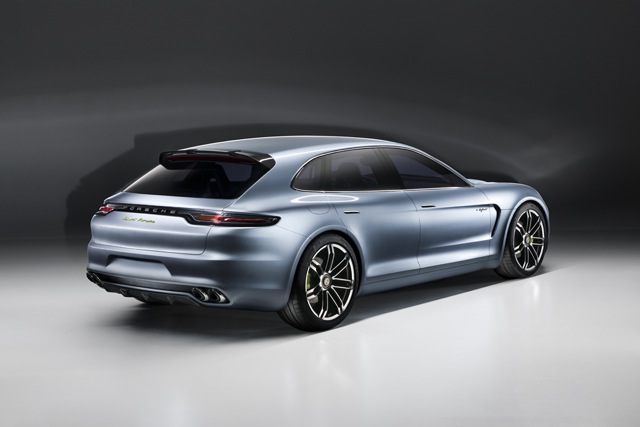 Last week, Porsche announced a new concept car, the Porsche Panamera Sport Turismo. The jury is still out for a lot of die hard Porschefiles (especially Porsche 911 and Porsche 356 people) on the Porsche Panamera, so I can't imagine they'll be overly excited about the Sport Turismo version.
I've been mulling over this new concept vehicle since receiving the press release last week. I know the Porsche Panamera is a wild success for Porsche, opening a whole new segment up for them, but I'm just not sure that I myself am in love with the Panamera yet. That makes me hesitant to fully embrace yet another model. Don't get me wrong, I love the Panamera from the front, with it's classic Porsche 911 style lines. It's once you move around the car to the side, then to the rear that I start to question whether or not I truly like the styling.
Course, being a Porsche fanboy, I'll "love" anything the company produces, but I still have some questions in the back of my mind. I know I'm not alone given the broad range of reactions I've read about the Panamera Sport Turismo so far.
That said, I think anyone would be hard pressed to argue against the hotbed of dang cool technology Porsche has packed into this latest concept car. One thing I love about this particular iteration is unlike the typical concept car which seems SO FAR out of the realm of something we could see in our driveways within a decade (Porsche 918 Spyder aside), the Porsche Panamera Sport Turismo is not that great of a leap styling and feature wise beyond what we see today. Heck, we're already hearing rumors that some of the technological advancements will be coming to production Porsche models in the near future.
Here's a teaser video on the new Porsche Panamera Sport Turismo:
Here are some of the cool features covered in Porsche's press release:
External mirrors – Instead of the traditional exterior mirrors, the Sport Turismo has dual rear-facing cameras mounted in the side air outlets. Images are displayed on screens in cockpit.
E-Hybrid System – Allows the car to be plugged in and charged in as little as 2.5 hours. The higher performance hybrid components produce 416hp good for up to 80 mph and 18 miles on electric power alone. The drive system includes a new electric motor producing about 95hp along with a supercharged 3-liter V6 power plant producing 333hp. 0 to 60 mph in sub 6 second times.
Lithium-ion batteries – Much preferred to the nickel-hydride batteries currently used, without increasing the size of the battery compartment. Lithium-ion offers faster acceleration, longer electric driving range and higher speeds on battery power alone.
Touch displays for instruments and controls – "The interior of the Sport Turismo is a forward-looking interpretation of purist sports car thinking: as little as possible and as much as necessary. Instead of classic instruments, a large central TFT colour display is positioned in front of the driver; it is used to call up and display any vehicle information as needed – from the tachometer to driving data or navigation. Two monitors, one to the left and one to the right of this display, show images from the "exterior mirror" cameras. Two additional displays in tube form provide information on the hybrid-specific driving states, e.g. pure electric driving, as well as other functions. The power meter in the instrument panel illuminates in Acid Green and shows the combined system power of the two drives."
Smart phone enabled controls – This is one of my favorite things revealed in the press release: "The Panamera Sport Turismo gives the driver entirely new options for customised communications. The driver can use mobile online services to access and control all key vehicle information with a smart phone app. Charge control by mobile phone shows the user just how much electricity the battery has already stored at any given time and predicts how much more time the charging process will take. In addition, there is a charging timer with user-defined charging times. Moreover, the vehicle's interior can also be preconditioned by mobile phone, e.g. by turning on the air conditioner, and the vehicle will already be at the right temperature before driving with electricity supplied from a household electrical outlet."
Being a technology junkie, I love the glimpse into where the interiors of future production versions of Porsche's cars are headed. Before long, it'll be like the scene from Fun With Dick & Jane. You'll see me talking into my key remote saying, "Porsche off."
[Source, Quotes & Images: Press.Porsche.de]