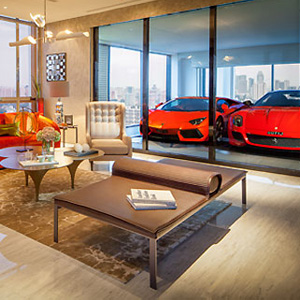 There are a lot of takes on the garage. Everything from underground parking such as Hide-A-Porsche: Ultimate Underground Parking, to houses built to showcase and provide lots of space for your exotic rides like A Car Enthusiast's Dream House. It's not much of a leap to love some of these creations given most of our fascination with exotic cars. We want our cars to have a happy, healthy, safe place to rest when we're not drivin em like we stole em!
Hamilton Scotts, an ultra high end living project in Singapore, has raised the stakes even higher for the ultimate car enthusiast's residence. They've mixed a healthy dose of technology in with what may be one of the coolest ways to enjoy the exotic or exotics in your life (the 4 wheel kind…). Not only are the apartments the very epitome of luxury, included in each of the 56 units is a two car sky garage viewable from the living room! When you spend the kind of money the wealthy in Asia are for cars like a Ferrari 458 Italia or a Lamborghini Aventador, you ought to be able to enjoy the cars even when you're not behind the wheel.
Here is a short promo video describing the features:
Now, check out this video following one lucky resident and his Lamborghini Aventador:
Course this luxury doesn't come cheap. Prices for apartments with two parking spaces in the sky garage average around the $7.5 million mark. If two spaces aren't enough, maybe the $24 million penthouse unit, with its four car sky garage is more your style.
This project definitely goes on the ultimate car lifestyle list for sweetest digs!
[Source & Images: HamiltonScotts.com]