Hollywood movie directors rarely need an excuse to factor a couple of eye-catching supercars into a storyline and all types of Porsches have been used in all types of film down the years. The films themselves may not always do so well at the box office, but the Porsches nevertheless stand out. Here, we look at a selection of models that have graced the big screen, some of which will cost a small fortune for things like petrol, parts and performance car insurance, should you be interested in owning one so be warned.
Porsche 356 Cabriolet – Bullitt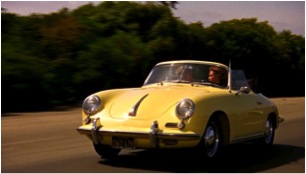 Factor in some of the best car chase scenes of all time and the iconic figure of Steve McQueen and you get a pretty special film. A whole host of legendary motors star in Bullitt, including the Dodge Charger, Ford Mustang, Porsche 356 Speedster and Porsche 356 Cabriolet. While the Ford Mustang, driven my McQueen's character Frank Bullitt, undoubtedly steals the show, the 356 Cabriolet more than holds its own in the style stakes.
Porsche 356 Speedster – Top Gun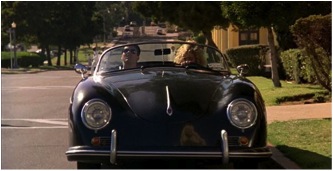 Top Gun is one of the most memorable movies to come out of the 80s and while the majority of the action takes place in the skies, there's still time for Maverick, played by Tom Cruise, and his love interest to cruise around in an über-cool black 356 Speedster, a model that featured prominently in Doc Hollywood in the early 1990s as well. Cruise also drove a 928 in Risky Business and memorably said in the film: "Porsche – there is no substitute."
Porsche 911 – Gone in 60 Seconds
There are too many cars to mention in the 2000 remake of the 1974 film. For anyone in need of a quick refresher of what the movie was about, Nicolas Cage's Memphis character assembles an all-star crew to help steal 50 cars in 72 hours, five of which are Porsche models, a 996, 959, 911, Boxster and Speedster. It was the 911, though, that took the distinction of being the first to be stolen in the film, which grossed well over $200 million in total.
Porsche Kremer 935 – Cannonball Run
Plenty of petrol heads will have a soft spot for Cannonball Run, which featured a cast of Burt Reynolds, Dean Martin, Sammy Davis Jnr, Roger Moore, Farrah Fawcett and Jackie Chan. J.J. McClure, played by Reynolds, is seen behind the wheel of a Kremer 935, although admittedly it's easy to overlook this given the sea of cars taking part in the cross-country race, including a Rolls-Royce Silver Shadow, Aston Martin DB5, Ferrari 308 GTS and Lamborghini Countach.
Porsche Boxster – Legally Blonde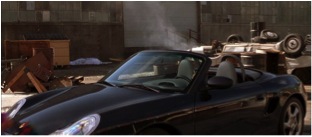 Okay, hands up who has watched Legally Blonde and admired the bodywork on show? The bodywork of the Boxster, of course. The main character of Elle Woods, played by Reese Witherspoon, may not be renowned as the sharpest tool in the tool box, but you cannot fault her choice in cars and it gets plenty of airtime in Legally Blonde.
This is a guest post submitted by Emma, equal parts Porsche fan and movie fanatic!
[Images: imcdb.org]