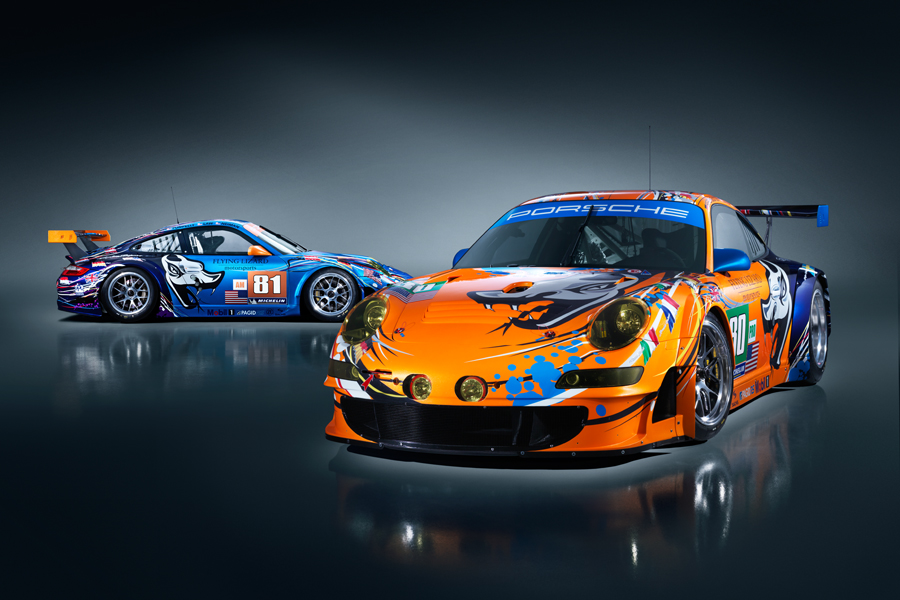 Let me just say, if the commemorative livery on the Flying Lizard Porsche No. 80 and No. 81 cars don't instantly make you want to partake in Porsche Motorsports, I'd seriously question your love of the Porsche marque. What Troy Lee put together for these cars from a design standpoint gets the juices flowing. And I'm pretty much a race idiot with zero knowledge of the sport.
The designs on both cars are identical with complementary colors being used. The primary colors serve as a backdrop for the driver names from years past, 28 of them to be exact, who have won the 24 Heures du Mans overall in a Porsche. Putting together a design commemorating Porsches history at Le Mans was no small feat for Lee. The result is amazing.
VP of Marking at Flying Lizard, Jennifer Hart, explains a bit more about why these cars are special:
2011 is a special year for Flying Lizard at Le Mans: our first time fielding two entries. The livery commemorates the heritage of Porsche at Le Mans, starting with drivers Hans Hermann and Richard Attwood, who secured the first overall victory for Porsche in 1970. The 911 is an ideal canvas for Troy Lee's beautiful tribute to this iconic race.
I ran across this video today that gives a behind the scenes look at the design creation on the cars:
Based on the look of the cars, I don't even see a need to race. How can they NOT win?! Unfortunately that's not the way it works, so catch the green flag at 6:00am PT on Saturday, June 11th. You can keep up on team updates at the Flying Lizard blog here: LizardMS.com.
Here's the driver lineup: Joerg Bergmeister (Germany), Patrick Long (USA) and Lucas Luhr (Germany) will team in the Flying Lizard No. 80 Porsche 911 GT3 RSR in the GTE Pro class. Darren Law (USA), Seth Neiman (USA) and Spencer Pumpelly (USA) will pilot the Flying Lizard No. 81 Porsche in the GTE Am class.
[Source & Images: Flying Lizard Motorsports]