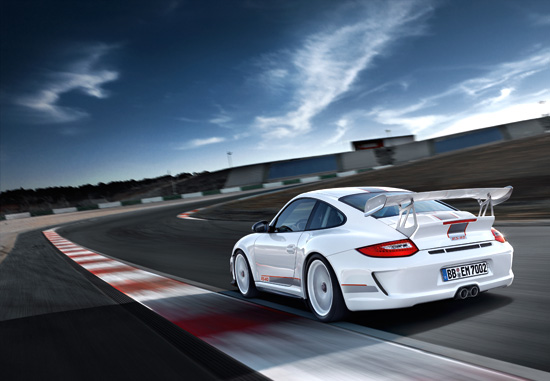 You gotta love the Internet. It's the best friend of anyone who loves gossip, rumors or "leaked" secrets. The last few days we've seen a lot of rumors flying around about the next version of the Porsche 911 GT3 RS. It turns out the rumors were true. This morning Porsche officially announced the 911 GT3 RS 4.0 in a press release along with some of the same photos we've seen circulating on rumor sites.
True to Porsche fashion as of late, the Porsche 911 GT3 RS 4.0 will be a limited production car with just 600 vehicles available worldwide. The car is meant for the track and includes a number of features track aficionados will appreciate. Not the least of these is the highest displacement 911 engine ever produced. It features 125 hp per liter giving it the highest per liter output. It'll crank out 500 hp at 8,250 rpm. Max torque is 339 ft/lbs and is reached at 5,750 rpm.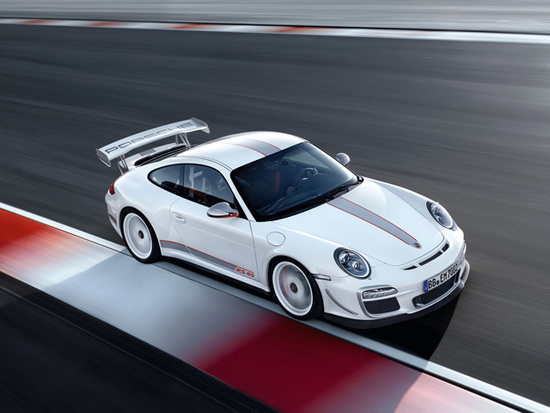 In tests on the infamous Nürburgring-Nordschleife, the Porsche 911 GT3 RS 4.0 turned in a time of 7 minutes, 27 seconds. 0 to 60 mph is reached in 3.8 seconds and you'll 124 mph on the speedo in less than 12 seconds. This, thanks to the gearing designed for race circuit use.
Of course it's stripped down to be as lightweight as possible, just 2,998 lbs with a full tank of fuel. Things like door openers, radio and other conveniences are MIA from the interior. A number of lightweight components, made out of carbon fiber, were also used for things like the bucket seats, front fenders and luggage compartment lid, and the like. They even addressed the carpet used on the interior, making it "weight-optimized", whatever that means. All I can say is it sound LIGHT!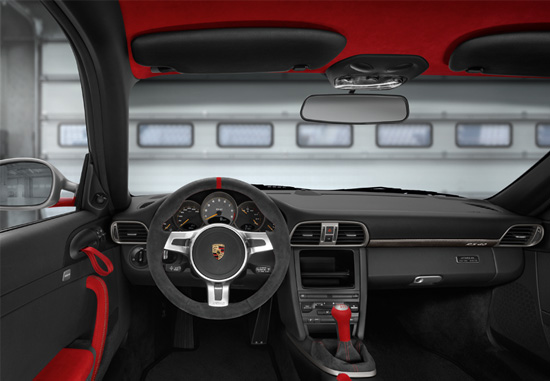 The interior of the car is gorgeous, especially for a track car. The alcantara steering wheel and touches on the console, along with the red accents make this as desirable to me as a street car.
The car includes some technology also worth mentioning. Here is an excerpt from the press release:
Air deflection vanes mounted on either side of the front bumper – called 'flics' or dive planes – make their first appearance on a production Porsche. They create increased downforce on the front axle, and together with the steeply inclined rear wing, provide aerodynamics on par with its performance capabilities. As a result, at the 193 mph top track speed, aerodynamic forces exert an additional 426 lbs of downforce, thus pushing the 911 GT3 RS 4.0 onto the road.
The car will go on sale late in 2011 at a starting price of $185,000.
[Source & Images: Press.Porsche.com]