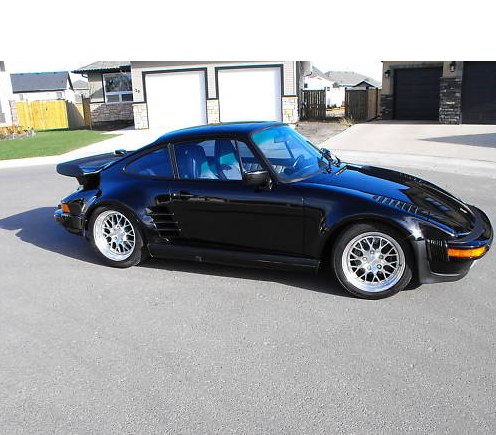 I was searching around on eBay yesterday morning, looking at what Porsche bargains might be awaiting me, when I came across this 1987 Porsche 911 Turbo Slantnose. It appears to be a factory slantnose with some other modifications like these listed in the auction:
Porsche RS racing struts and shocks SSI stainless steel exhaust Gerret ball bearing turbo 400 bhp.
Nothing really out of the ordinary there, but then it gets a little strange. And I can't tell if it's legit or someone with a heck of a creative way to get you to take a second look at the car.
This car has a clean title however doesn't have a clean car fax this car was once a stolen car in the state of New Jersey . The original owner had the car stolen and took a buy out for the insurance company and hid the car for 10 years until the statue of limitations ran out and then and then sold it to dealer in  another state and got it a clean title . There is several states that categorize stolen cars as salvage however this car is not a salvage car I had it inspected before I bought it in 2008 and exported into Canada . The guy I bought it from disclosed all of this to me as I now have all the information about the car.
How weird is that? Sounds like it's straight out of a movie. Why in the world you would do such a thing is beyond me, not to mention why, after the fact, you'd actually fess up to the story. Isn't there still some way for the guy to get busted for this? Seems like there would be.
How he'd pull this off is also baffling to me. Maybe I just don't have the hardened criminal personality that would let me get away with a crime like this. I think I'd crack like a grade school girl at first brush with the police.
Regardless of whether or not it's true, that is one heck of a sexy Porsche. A Porsche 911 Turbo Slantnose is definitely on my list to own some day. Here's a link to the eBay auction if you want to check out more pictures: Porsche 911 Turbo Slantnose
.
What do you think of the story? Legit or one heck of a good tale?